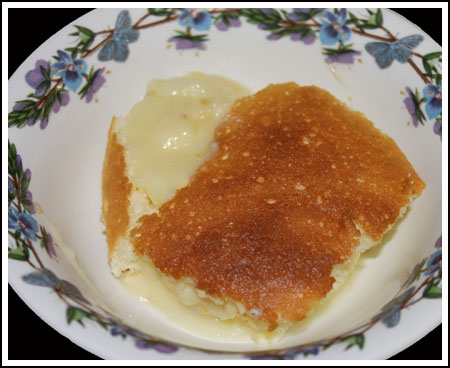 Louise's Lemon Pudding Cake
Author: Cookie Madness
Prep time: 20 mins
Cook time: 45 mins
Total time: 1 hour 5 mins
Part cake, part pudding
1 cup granulated sugar (divided use)
Grated zest of two lemons
1/8 teaspoon salt
1/4 cup all purpose flour
4 tablespoons unsalted butter, melted
1/3 cup lemon juice -- can use Meyer, but I used regular and Louise uses regular
3 large eggs, separated
2 tablespoons heavy cream
1 cup milk (I used 2 %)
1/8 teaspoon cream of tartar
Preheat oven to 350 degrees. Butter an 8 inch baking dish (I used glass -- I'm not sure what Tony and Loise use). Have ready a roasting pan or pan large enough to hold the 8 inch pan. You will be using a water bath.
Set aside 1/4 cup of the sugar and put 3/4 cup in a mixing bowl. Add the lemon zest and mash it around with the back of a spoon until you have a fragrant, lemony sugar. Add the the salt and the flour and stir until well combined. Add melted butter, lemon juice, and egg yolks. Mix until well blended. Stir in cream and milk. Set aside.
In a mixing bowl, beat egg whites and cream of tartar until fluffy. Gradually add the reserved 1/4 cup sugar and beat until stiff but still moist.
Fold egg white mixture into lemon mixture. Pour batter into the baking dish. Place the baking dish in the larger pan and fill the larger pan with water so that it comes about halfway up the sides (water bath). Bake on center rack for 40-45 minutes or until top is lightly browned. Serve hot or cold. Serves 6.
Adapted from Tony from Fresno, CA
Recipe by
Cookie Madness
at https://www.cookiemadness.net/2010/05/louises-lemon-pudding-cake/