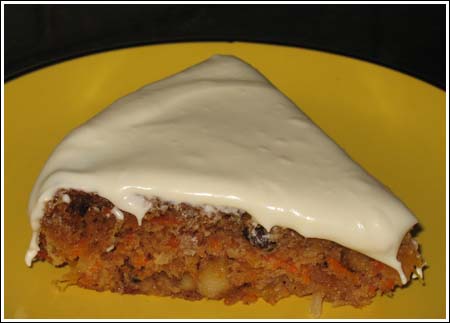 Cooking Light Carrot Cake
Author: Cookie Madness
Prep time: 10 mins
Cook time: 28 mins
Total time: 38 mins
An 8 inch carrot cake adapted from a recipe in Cooking Light magazine. The Cooking Light Carrot Cake can be baked in a metal or glass pan. If using glass, reduce the temperature to 325 and bake until cake springs back when touched.
CAKE:
5 ounces all-purpose flour (1 cup all-purpose flour)
1 teaspoon baking powder
3/4 teaspoons ground cinnamon
1/8 teaspoon salt
1 cup grated carrot
1/2 cup granulated sugar
1/4 cup packed brown sugar
3 tablespoons butter, softened
1 large egg plus 2 tablespoons lightly beaten egg
1 teaspoon vanilla extract
1/4 cup buttermilk
Cooking spray
FROSTING:
3 ounces cream cheese, softened
1/2 ounce fromage blanc (or just use another 1/2 oz of cream cheese)
1 tablespoon butter, softened
1/4 teaspoon vanilla extract
1/8 teaspoon salt
1 1/2 cups powdered sugar (I prefer 1 cup)
Preheat oven to 350°. Grease an 8 inch square baking pan. If using a glass pan, reduce oven heat to 325.
Whisk the flour, baking powder, ground cinnamon, and salt together in a medium bowl. Stir in the 1 cup of grated carrots.
Combine granulated sugar, brown sugar, and 3 tablespoons butter in a large bowl. Beat with a mixer at medium speed until combined. Add eggs and vanlila, beating well.
Add flour mixture and buttermilk alternately to sugar mixture, beginning and ending with flour mixture.
Spread batter in the pan and bake at 350° for 28 minutes or until a wooden pick inserted in center comes out clean. Cool cake completely on a wire rack.
Make the frosting. Beat the cream cheese and next 4 ingredients until creamy. Gradually add powdered sugar. Spread frosting evenly over top of cake.
Recipe by
Cookie Madness
at https://www.cookiemadness.net/2007/03/25/cooking-light-carrot-cake/