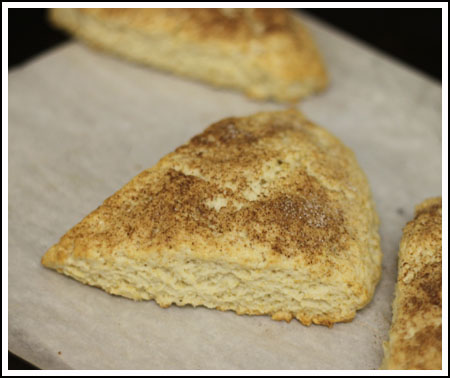 Cinnamon Topped Cream Scones
Author: Cookie Madness
An easy scone recipe made with cream
2 cups all purpose flour (9 oz)
1 tablespoons baking powder
1/2 teaspoon salt
1/4 cup granulated sugar
1 1/4 cups heavy cream, plus more for brushing
Topping: 1/2 tablespoon granulated sugar mixed with ½ teaspoon cinnamon
Combine the flour, baking powder, salt and sugar in a bowl and mix well.
Gradually add the cream, stirring to make a soft dough.
Turn dough out onto a parchment lined surface and shape into an 8 1/2 inch round. Cut round into 8 triangles.
Set the triangles on a parchment lined cookie sheet, brush with a little extra cream, sprinkle with cinnamon sugar.
Bake at 425 F. for 15 minutes or until done.
Recipe by
Cookie Madness
at https://www.cookiemadness.net/2010/05/cinnamon-topped-cream-scones/