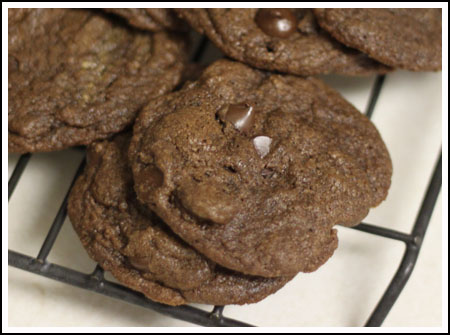 Whole Grain Double Chocolate Cookies
Author: Cookie Madness
An easy cookie recipe made with whole grain flour
1 3/4 cups white whole grain flour (220 grams) -- (ex. Eagle Mills, KA White Whole Wheat)
1/4 teaspoon baking soda
3/4 scant teaspoon salt
1/3 cup natural cocoa powder
2 sticks unsalted butter, room temperature
1/2 cup firmly packed dark brown sugar
1 cup granulated sugar
1 large egg
1 teaspoon vanilla extract
2 tablespoons milk**
1 1/2 cups extra dark or semi-sweet chocolate chips
Preheat the oven to 350 degrees F. and line a couple of cookie sheets with parchment paper.
Mix the flour, soda, salt and cocoa powder together in a small bowl and set aside.
Cream the butter and both sugars with an electric mixer. Beat in the vanilla. Scrape sides of bowl. Add the egg and beat for about 30 seconds or just until it is mixed in. Stir in the milk, then add the flour mixture and stir by hand or with lowest speed of mixture until it's blended in. Stir in the chocolate chips.
Bake right away or chill dough until ready to use. If baking right away, spoon heaping teaspoonfuls (or regular size cookie scoops) of dough onto cookie sheets spacing 2 ½ inches apart. Bake for 11-13 minutes or until cookies appear done.
**I used regular milk, but I think buttermilk might be an interesting addition.
Recipe by
Cookie Madness
at https://www.cookiemadness.net/2010/05/whole-grain-double-chocolate-cookies/