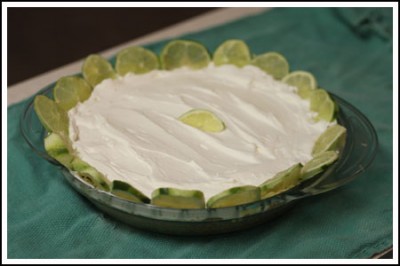 Author: Cookie Madness
Prep time: 10 mins
Cook time: 20 mins
Total time: 30 mins
Best Key Lime Pie -- Adapted from Joe's Stone Crab
Crust:
1 1/4 cup graham cracker crumbs (1 sleeve plus 4 extra squares)
5 tbsp melted butter, salted or unsalted is fine -- salted has more flavor
1/3 cup sugar
Filling:
3 large egg yolks
1 1/2 teaspoons grated lime zest (use more if desired)
1 14-ounce can sweetened condensed milk
2/3 cup freshly squeezed lime juice (I used Nellie's Key Lime Juice)
Topping:
1 cup heavy or whipping cream, chilled
1-2 tbsp confectioners' sugar
¼ teaspoon vanilla extract
Preheat the oven to 350 degrees F. Butter a 9 inch deep dish pie plate.
Combine the graham cracker crumbs, melted butter and sugar. Press the mixture into the bottom and up sides of the pie pan. Bake the crust until set and golden, 8 minutes. Set aside on a wire rack; leave the oven on.
Using high speed of an electric mixer, beat the egg yolks and lime zest at high speed for 5 minutes. Gradually add the condensed milk and continue to beat until thick, 3 or 4 minutes longer. Add the lime juice and stir until combined, then pour the mixture into the crust.
Bake for 10 minutes or until the filling has just set. Cool on a wire rack, then refrigerate.
Whip the cream and the confectioners' sugar until nearly stiff. Add the vanilla. Spread the whipped cream over the top of the pie or pipe it neatly around the edges.
Before serving, freeze the pie for about 20 minutes. Cut and serve.
The original recipe said to freeze the pie before cutting. I usually forget to do this and the pie is always fine.
Recipe by
Cookie Madness
at https://www.cookiemadness.net/2010/06/02/best-key-lime-pie/