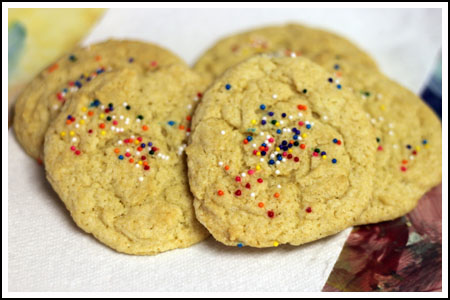 Author: Cookie Madness
Prep time: 10 mins
Cook time: 12 mins
Total time: 22 mins
These cookies are chewy and have a fairly pronounced sour cream flavor.
12 tablespoons unsalted butter, room temperature
2 cups granulated sugar
1 teaspoon vanilla extract
¼ teaspoon almond extract
1 large egg
1/2 teaspoon salt
1 cup room temperature sour cream
3 ¼ cups all purpose flour
1 teaspoon baking soda
1 teaspoon baking powder
In bowl of a stand mixer with the paddle attached, cream the butter and sugar for about 3 minutes or until light and fluffy. Scrape sides of bowl often and add in the vanilla and almond extract. After creaming the butter and sugar, add the egg and salt and beat just until mixed. Stir in the sour cream.
Thoroughly mix together the flour, soda, and baking powder in a separate bowl. Add to the batter and stir until mixed.
Scoop batter up by heaping tablespoons and arrange scoops of dough a couple of inches apart on parchment lined cookie sheets. Bake for 15 minutes at 350F or until cookies are brown around the edges.
Recipe by
Cookie Madness
at https://www.cookiemadness.net/2010/06/21/sour-cream-sugar-cookies/