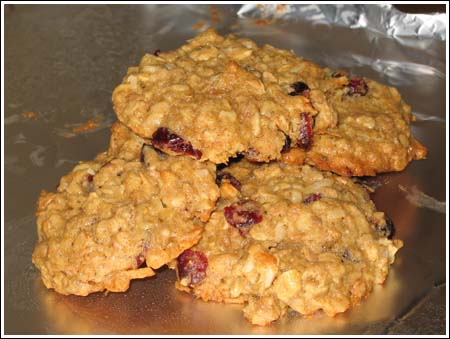 5 Grain Rolled Cereal Daybreak Cookies
Author: Cookie Madness
Prep time: 10 mins
Cook time: 12 mins
Total time: 22 mins
Cookies made with 5-grain cereal
1/2 cup butter -- melted
1 c packed brown sugar
1 egg
1 tsp vanilla extract
1 c flour
1/4 tsp baking soda
1/2 tsp baking powder
3/4 tsp salt
1 1/2 cups five-grain cereal (such as Bob's Red Mill)
1/2 cup sweetened coconut flakes
1/2 c dried cranberries
1/2 cup pecan halves -- chopped
Preheat oven to 350 degrees. Line cookie sheets with parchment paper.
Blend melted butter and sugar with a whisk until smooth. Add vanilla and egg to butter mixture and mix well. In a medium bowl, stir together the flour, baking soda, baking powder, salt, and cereal. Stir flour mixture into egg and butter mixture until just combined. Add remaining ingredients, mix until combined. Drop 1 1/2 inch balls (about 2 tbsp per ball) onto parchment lined cookie sheets.
Bake 10 minutes or until lightly brown on edges but still soft in the middle (mine took longer). Cool 2 minutes on cookie sheets and then remove to wire racks to cool completely.
Makes 20 cookies.
Recipe by
Cookie Madness
at https://www.cookiemadness.net/2007/04/17/5-grain-rolled-cereal-daybreak-cookies/