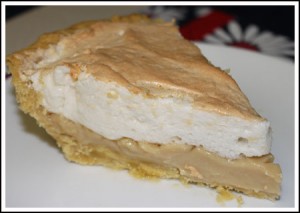 Author: Cookie Madness
Prep time: 10 mins
Cook time: 15 mins
Total time: 25 mins
A delicious butterscotch pie recipe with a meringue topping. If you prefer, you can leave off the meringue and use whipped cream
3 large egg yolks, room temp
4 tablespoons flour
2 cups whole milk, warmed slightly in microwave
1 big pinch salt
4 tablespoons unsalted butter (salted European style was better)
1/2 cup light brown sugar
1/2 cup dark brown sugar
1 teaspoon vanilla extract
1 (9 inch) pie crust, baked
Meringue
3 large egg whites, room temp
1/2 teaspoon vanilla
1/4 teaspoon cream of tartar
6 tablespoons granulated sugar
Preheat oven to 350 degrees F.
Have all Meringue ingredients laid out and ready to go - -you'll need to make it quickly.
Whisk the 3 egg yolks together in a bowl. In a second bowl, whisk flour with half of the warm milk, until smooth. Whisk the beaten egg yolks and the salt into the milk/flour mixture, then whisk in the remaining cup of milk. Set aside.
Place the butter in a saucepan and soften it a little over medium heat. Add the brown sugar and whisk or stir for about 2 minutes or until butter is melted and sugar has dissolved. Whisk the milk mixture into the saucepan. Continue whisking constantly over medium heat until mixture thickens and bubbles -- this should only take 2-3 minutes. After big bubbles start to form, continue whisking for
another
-3 minutes. Remove from heat and stir in the vanilla. Pour the hot filling into the crust. Make meringue quickly so that you can put it on the filling while it's hot (they say this helps prevent weeping).
Make meringue. Beat egg whites and cream of tartar until stiff peaks just begin to form. Beat in the vanilla, then slowly beat in the sugar. Scrape mixture over hot filling and bake at 350 for 10-15 minutes or until lightly browned.
Let pie cool at room temperature for an hour, then transfer to the refrigerator to chill for 4 hours or until set.
Recipe by
Cookie Madness
at https://www.cookiemadness.net/2010/07/butterscotch-pie-2/