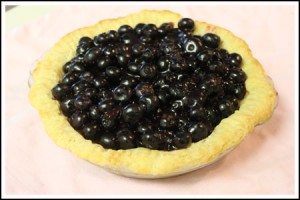 The Best Blueberry Pie Yet!
Author: Cookie Madness
Prep time: 10 mins
Cook time: 10 mins
Total time: 20 mins
A chilled blueberry pie made with fresh blueberries
1 baked 9 inch pie shell
1/4 cup cold water
1/4 cup cornstarch
3/4 cup boiling hot water – microwave is handy for this
1/4 teaspoon salt
1 cup granulated sugar
2 pounds fresh blueberries, washed and carefully inspected for stems etc.
1 1/2 tablespoons fresh lemon juice
1 1/2 tablespoons butter
In a medium saucepan, preferably a metal one without a nonstick coating, mix together the cold water and the cornstarch to dissolve the cornstarch.
Add the boiling water, sugar and salt. turn heat to medium. Add about 1/2 cup of the blueberries. Mix and stir with a whisk and a scraper, pressing blueberries against the side of the pan and smashing them (and any lumps of cornstarch), until the mixture thickens and goes from cloudy to translucent purple. Once this happens, continue cooking and stirring over a lower heat for about 2 minutes more.
Remove from heat and stir in the lemon juice and butter. Let the mixture cool for a few minutes, then scrape the warm blueberry gel into a bowl with the fresh blueberries. Stir to coat the blueberries with the gel mixture, then transfer to the baked pie crust. Chill for about 4 hours.
You can use a store bought crust or make your own. Here's a link to the recipe I use.

https://www.cookiemadness.net/2014/01/baked-all-butter-pie-crust/
Recipe by
Cookie Madness
at https://www.cookiemadness.net/2010/07/the-best-blueberry-pie-yet/