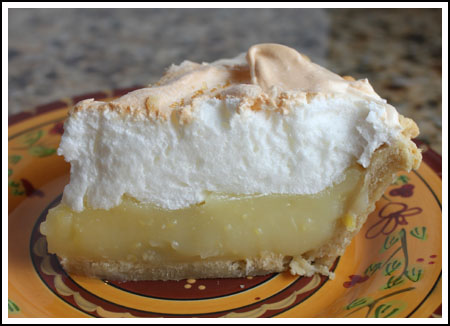 Fool-Proof Lemon Meringue Pie
Author: Cookie Madness
An easy, basic recipe for tart lemon meringue pie
Filling:
1 1/4 cups granulated sugar
6 tablespoons cornstarch
1/8 teaspoon salt
½ cup cold water
1 tablespoon grated lemon zest
1/2 cup lemon juice
4 large egg yolks
1 tablespoon butter, room temperature
1 1/2 cups boiling water
Baked 9-inch pie crust
Meringue:
4 large egg whites, room temperature
1/4 teaspoon cream of tartar
1/2 cup granulated sugar mixed with 2 teaspoons of cornstarch
Assemble all the ingredients – especially meringue ingredients.
In a 2- to 3-quart sauce pan that is not yet set over heat, mix 1 1/4 cups sugar with 6 tablespoons cornstarch and salt. Whisk in 1/2 cup cold water, lemon zest, and lemon juice, blending thoroughly. Whisk in the egg yolks. Add the butter and whisk in 1 1/2 cups boiling water.
Set pan over medium or medium high heat (I used medium because the pot was on a larger burner and it was metal) and stir with a flexible heat-proof spatula scraper until mixture boils, about 7 minutes (mine boiled in about 5, but I let it go for 7). Reduce heat to medium (or low, in my case) and stir filling 1 minute more. Pour filling into pie crust and quickly make meringue.
In bowl of a stand mixer using whisk attachment beat egg whites and cream of tartar until very foamy. Continue to beat at high speed and gradually add the sugar and cornstarch mixture, 1 tablespoon at a time. Then beat until whites hold stiff, glossy peaks. Spoon meringue onto hot pie filling. With a spatula, swirl meringue to cover filling completely, touching the rim of the pie shell.
Bake in a 325 degree oven until meringue is browned, about 25 minutes. Set pie on rack until cool, about 3 hours. Serve immediately or store in a cake cover in refrigerator.
Recipe by
Cookie Madness
at https://www.cookiemadness.net/2010/07/fool-proof-lemon-meringue-pie/