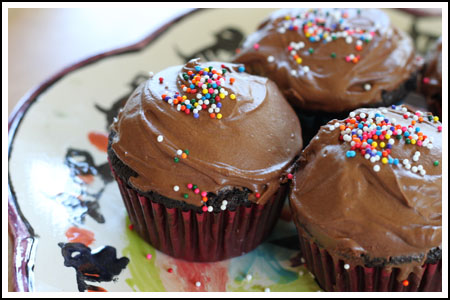 Ultimate Chocolate Cupcakes
Author: Cookie Madness
Prep time: 12 mins
Cook time: 20 mins
Total time: 32 mins
Cupcakes don't get more chocolate-y than this!
Ganache Filling:
2 oz. bittersweet chocolate
4 tablespoons heavy cream
1 tbsp powdered sugar
Chocolate Cupcakes:
3 oz. bittersweet chocolate
5 tablespoons Dutch cocoa
3/4 cup hot coffee
3/4 cup bread flour
3/4 cup granulated sugar
1/2 tsp salt
1/2 tsp baking soda
6 tablespoons vegetable oil
2 large eggs, room temperature
2 tsps vinegar
1 tsp vanilla extract
Creamy Chocolate Frosting:
4 tablespoons plus 4 teaspoons sugar
2 large egg whites
Small pinch salt
12 tbsp unsalted butter, softened and cut into 1 tbsp pieces
6 oz. bittersweet chocolate, melted and cooled
1/2 tsp vanilla extract
Ganache Filling: Place chocolate, cream, and confectioners' sugar in small microwave-safe bowl. Heat on high power until mixture is warm to touch, 10 to 30 seconds. Whisk until smooth; transfer to refrigerator and let stand until just chilled, no longer than 30 minutes.
Cupcakes: Preheat oven to 350 degrees F. Line 12 standard size muffin cups with paper liners. Place chocolate and cocoa in a mixing bowl and pour the hot coffee over. Whisk until smooth then cool in refrigerator for about 15 min.
In another bowl, mix the flour, sugar, salt and baking soda together, set aside.
Whisk oil, eggs, vinegar and vanilla into the cooled chocolate mixture until smooth, then stir in the flour mixture. Divide batter between the baking cups and place 1 rounded spoon of ganache on top of each cupcake. Bake 17-19 minutes, until cupcakes are set and just firm to the touch. Cool completely on a rack before icing.
Creamy Chocolate Frosting: Combine sugar, egg whites and salt in the bowl of a stand mixer. Place the bowl over a small pot of boiling water and whisk gently and constantly until the mixture reaches 150 on a thermometer, about 2-3 minutes.
Place bowl back in the stand mixer fitted with the whisk attachment. Beat at medium speed about 1-2 minutes. One piece at a time, add the butter, then the cooled melted chocolate and vanilla. Mix until combined, then increase speed to med-high and beat until light and fluffy. If your frosting doesn't fluff up enough (which may be because ingredients weren't at the exact right temperature), just throw the bowl into the refrigerator for about 20-30 minutes and beat it chilled.
Notes:
For the chocolate I used Lindt 70% Intense Chocolate. It is indeed, intense. I wouldn't go any higher than 70% with the chocolate. For the cocoa, I used Hershey Dark, which is the only Dutch process I had in the house and I used cider vinegar instead of white. The frosting is pretty easy to make even though you do have to use a candy thermometer and boil the egg sugar mixture, but it's worth it.
Recipe by
Cookie Madness
at https://www.cookiemadness.net/2010/08/02/ultimate-chocolate-cupcakes/