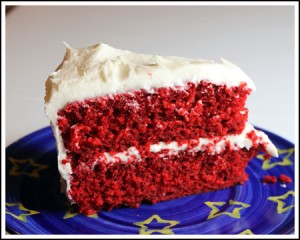 Author: Cookie Madness
Prep time: 10 mins
Cook time: 23 mins
Total time: 33 mins
Recipe for a one layer red velvet cake made with self-rising flour.
1 1/4 cups self-rising flour (165 grams)
1 tablespoon natural (not dark) cocoa powder
1/2 teaspoon baking soda
1/2 cup buttermilk
1/2 teaspoon red wine or any type of regular vinegar
3/4 teaspoon vanilla extract
2 tablespoons red food coloring
1 large egg
1/2 cup vegetable oil
3/4 cups granulated sugar (144 grams)
Frosting:
4 oz cream cheese, softened
2 oz butter, softened
2 cups powdered sugar
1/2 teaspoon vanilla
Preheat oven to 350 degrees F. Spray a 9x2 inch round cake pan or a 9x2 inch springform pan with flour-added cooking spray. If you're using a springform pan, put some aluminum foil under it and bring it tightly up the sides to prevent possible leakage.
Mix the flour, cocoa and baking soda together in a small bowl and set aside.
Mix the buttermilk, vinegar, vanilla and food coloring together in a liquid measuring cup and set aside.
In a mixing bowl, whisk together the egg, oil and sugar. Using a heavy duty scraper or large spoon, add the flour mixture and milk mixture to the egg mixture alternately in three parts, stirring until flour is mixed in.
Pour batter into the prepared pan and bake for 25 minutes or until a pick inserted in the cake comes out clean. Let cool in pan on a rack for 10 minutes, then carefully remove from pan. If using a springform, you can remove the sides and invert.
Let cool completely.
To make frosting, mix together the cream cheese and butter. Gradually add the sugar. Using an electric mixer, beat until creamy. Beat in the vanilla.
To make a layer cake, cut the cake round in half. Ice one half. Stack second half on top and ice the whole half-cake.
Recipe by
Cookie Madness
at https://www.cookiemadness.net/2010/08/red-velvet-half-cake/