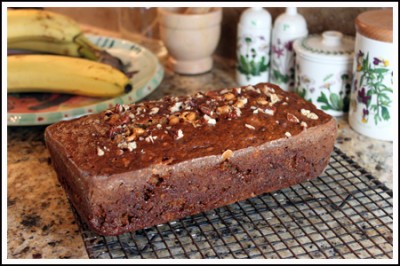 Banana Butterscotch Bread with Toasted Pecans
Author: Cookie Madness
Prep time: 10 mins
Cook time: 60 mins
Total time: 1 hour 10 mins
Banana bread with butterscotch chips thrown in.
1 3/4 cups all purpose flour (8 oz)
2 teaspoons baking soda
1/2 teaspoon ground cinnamon
1/2 teaspoon salt
3/4 cup granulated sugar
4 tablespoons unsalted butter, melted
1 large egg
1/2 teaspoon vanilla extract
1/4 cup milk
1 cup mashed ripe bananas
3/4 cup pecans, toasted and chopped
1/2 cup butterscotch morsels
Preheat oven to 350 degrees F. Grease a 9x5 inch metal loaf pan and dust with flour. If you have some, line the bottom with parchment. This bread is kind of sticky.
Mix together the flour, soda, cinnamon and salt and set aside.
In bowl of stand mixer, beat the sugar, butter and egg. Beat in the bananas, followed by the vanilla and the milk.
Add the flour mixture and stir until blended.
Stir in all but 2 tablespoons of the pecans and the butterscotch morsels. Sprinkle the pecans on top of the banana bread and bake for 1 hour. After 45 minutes, lay a sheet of foil over the bread to prevent over-browning. Let bread cool in pan on a rack for about 15 minutes, then remove from pan.
Recipe by
Cookie Madness
at https://www.cookiemadness.net/2010/08/banana-butterscotch-bread-with-toasted-pecans/