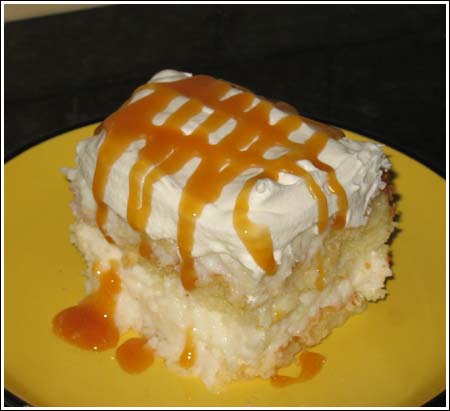 Author: Cookie Madness
Prep time: 10 mins
Cook time: 30 mins
Total time: 40 mins
Coconut cake that improves over time.
2 cups sour cream
2 cups granulated sugar
12 oz frozen coconut, thawed
1 yellow cake (box cake or scratch) . I used a "1-2-3-4 Cake" scratch cake from the Swans Down Flour people.
2 cups sweetened whipped cream or 2 cups of Cool Whip
Day One: Mix together the sour cream, sugar and coconut. Cover and let sit in refrigerator over night.
Day Two: Bake a very moist yellow cake using your favorite scratch recipe or a good brand of yellow cake mix. Bake it in two round 9 inch pans, then let cool completely. Cut the cake layers horizontally to make 4 layers. Spoon coconut mixture over each layer and stack. Place stacked cake in some sort of cake container and refrigerte for 3 or even 4 days. The coconut mixture will become firmer as it sits.
Day Three: Do nothing! (today)
Day Four: Whip up a cup of heavy cream and sweeten with a couple of tablespoons of powdered sugar and maybe some vanilla......or buy an 8 ounce tub of whipped topping. Spread over top of cake or all over cake. Garnish cake with something pretty like berries or caramel ice cream topping, then cut into squares and serve.
I am not going to post a picture of this cake until tomorrow.
Recipe by
Cookie Madness
at https://www.cookiemadness.net/2007/05/four-day-coconut-cake/