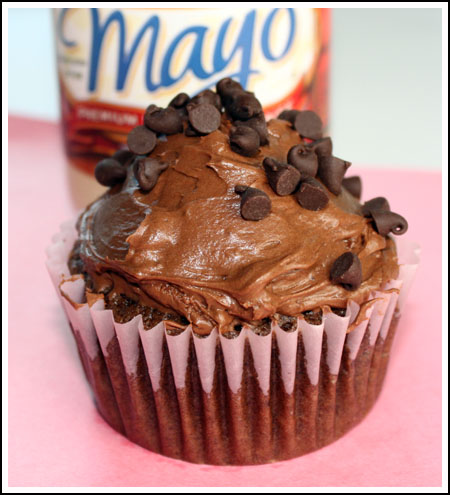 Chocolate Mayonnaise Cupcakes
Author: Cookie Madness
Easy chocolate cupcakes with mayonnaise in the batter.
1 ounce bittersweet chocolate, chopped
1/3 cup unsweetened cocoa powder (I used natural)
3/4 cup plus 2 tablespoons boiling water
1 1/4 cups plus 2 tablespoons all purpose flour (6.1 oz)
3/8 teaspoon baking soda
1/8 teaspoon baking powder
1/2 cup granulated sugar
1/2 cup (packed) dark brown sugar
2/3 cups regular mayonnaise (mine was room temp)
1 large egg, room temp
1/2 teaspoon vanilla extract
Sour Cream Frosting:
8 tablespoons butter, softened
2/3 cup cocoa powder, unsweetened (used natural)
3 cups sifted powdered sugar
1 teaspoon vanilla
1/3 cup room temperature sour cream
Preheat oven to 350°F. Line 18 cupcake tins with paper liners.
Combine chocolate and cocoa powder in medium metal bowl. Add the boiling water and stir until melted.
Mix flour, baking soda, and baking powder into another medium bowl.
Using electric mixer, beat both sugars and mayonnaise in large bowl until well blended, 2 to 3 minutes. Beat in egg and vanilla. Put down electric mixer and use a spoon for this next step. Add flour mixture in 4 additions alternately with chocolate mixture in 3 additions, mixing just until blended and being very careful not to overbeat. Divide batter evenly between cups, filling about 2/3 full.
Bake cakes until tester inserted into center comes out clean, about 20 minutes. Cool cakes in pans on racks 20 minutes. Remove from tin and frost when completely cool.
To make the frosting, mix the butter and cocoa powder together in a large mixing bowl. Mix in as much powdered sugar as you can and beat it with the mixer. When creamy, add remaining powdered sugar, sour cream and vanilla and beat until light and creamy. Adjust if necessary by using more or less sugar or stirring in a few teaspoons of coffee, water, milk, or more sour cream if necessary.
Yield might vary depending on how much you fill the cupcake cups and the size of your pan. I got 18, but you may get as many as 24.
Recipe by
Cookie Madness
at https://www.cookiemadness.net/2010/08/chocolate-mayonnaise-cupcakes/