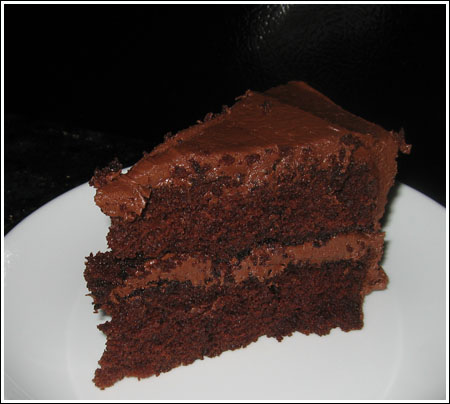 Pat's Chocolate Layer Cake
Author: Cookie Madness
Prep time: 10 mins
Cook time: 35 mins
Total time: 45 mins
Pat's Chocolate Layer Cake is an easy chocolate layer cake made with half & half cream.
2 1/4 cups granulated sugar (440 grams)
2 cups flour, lightly spooned and swept (260 grams)
1 1/2 teaspoons baking soda
1 1/2 teaspoons baking powder
1 teaspoon salt
1 cup unsweetened baking cocoa (70 grams)
1 cup half & half
2 large eggs
1/2 cup vegetable oil
2 1/2 teaspoons vanilla
1 cup hot coffee
Frosting
8 tablespoons of unsalted butter, softened
1 1/2 tablespoons of sour cream, room temperature
3 cups confectioners' sugar, sift or aerate before using
3/4 cup natural style cocoa powder
1 tiny pinch of salt
1 teaspoon vanilla extract
4 to 6 tablespoons of half & half
Preheat oven to 350 degrees F. Grease and flour 2 9-inch round cake pans.
In a large mixing bowl, stir or sift together the sugar, flour, baking soda & baking powder, salt and cocoa powder.
Stir in half & half, eggs, oil and vanilla until very well mixed (I do this with a heavy duty spatula scraper), then stir in coffee. Batter will be wet and soupy looking.
Pour into pans and bake for 35 minutes or until cakes test done. Let cool on rack for 10 minutes, then flip from pan and cool completely before frosting.
To make the frosting, beat the softened butter and about half of the sugar until creamy. Beat in sour cream and cocoa powder until smooth. Gradually add remaining sugar and enough half & half to make the icing spreadable.
Recipe by
Cookie Madness
at https://www.cookiemadness.net/2007/06/03/pats-chocolate-layer-cake/