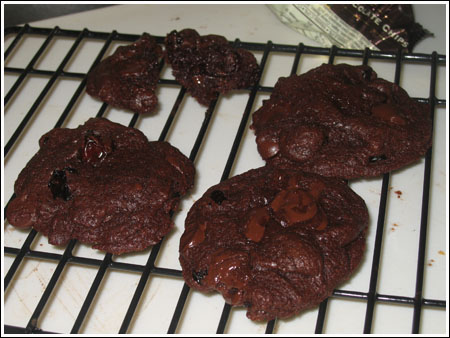 Small Batch Black Chocolate Cherry Cookies
Author: Cookie Madness
Prep time: 10 mins
Cook time: 11 mins
Total time: 21 mins
Small Batch Chocolate Cherry Cookies are double chocolate cookies made with chocolate chips (or you can use chunks) and dried cherries. This version makes a little over a dozen.
1/2 cup all-purpose flour
1 tablespoon unsweetened cocoa powder
1/2 teaspoon baking powder
1/4 teaspoon salt
3/4 cup plus 1 cup (divided use) bittersweet chocolate chips (Ghirardelli)
1/4 cup unsalted butter -- cut in small pieces
1/4 cup sugar
2 tablespoons dark brown sugar -- packed
1 large egg
3/4 cups dried cherries, preferably tart of sour
Don't preheat the oven yet because the dough needs a quick chill.
In a small bowl, stir together flour, cocoa, baking powder, and salt; set aside.
Place the 3/4 cup chocolate chips and butter in a large microwave-safe bowl. Heat on high for 30 seconds; stir and repeat until chocolate is melted. whisk in both sugars. If mixture seem very hot, let it cool for a few minutes, then stir in the egg.
Stir in dry ingredients just until combined (do not overmix). Fold in chocolate chips and cherries; press plastic wrap onto surface of dough and refrigerate 30 to 45 minutes.
Preheat oven to 350. Line two baking sheets with parchment paper or non-stick foil.
Drop well-rounded tablespoons of dough, about 2 inches apart, onto prepared sheets. Bake just until edges are firm -- 11 to 13 minutes. Cool on baking sheets 1 to 2 minutes; transfer to a wire rack to cool completely.
Recipe by
Cookie Madness
at https://www.cookiemadness.net/2007/06/05/small-batch-chocolate-cherr-cookies/