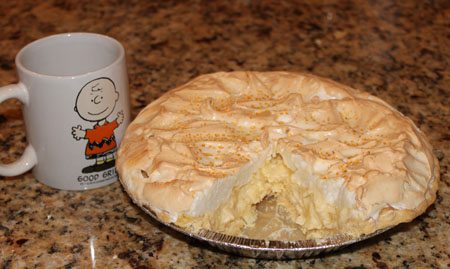 Author: Pineapple Sour Cream Pie
A meringue topped pineapple cream pie
1 (9 inch) deep dish pie crust, baked
3 large eggs
1/2 cup granulated sugar
2 tablespoons flour
1 cup sour cream
20 oz can of crushed pineapple in juice, undrained
1/4 teaspoon vanilla extract plus ½ teaspoon for meringue
1/2 teaspoon cream of tartar
1/2 teaspoon vanilla extract
6 tablespoons granulated sugar
Separate the eggs. Put whites in bowl of stand mixer. Put yolks in a separate mixing bowl, then whisk them a bit and cover. Let stand for 30 minutes to come to room temperature.
In a heavy saucepan, combine the 1/2 cup sugar, flour, pineapple and sour cream. Turn on the heat and cook and stir over medium heat until bubbly and hot. Whisk about half of the sour cream mixture into the egg yolks, then whisk egg yolk mixture into the saucepan still set over medium. Cook and stir until you hit a gentle boil, then continue cooking and stirring for two minutes.
Transfer hot filling to a baked 9 inch pie crust and immediately cover with meringue.
To make meringue, beat the egg whites until soft peaks start to form and gradually add sugar, cream of tartar and vanilla.
Set the meringue covered pie on a cookie sheet and bake at 350 F. for 15 minutes or until meringue is lightly browned. Let cool at room temperature for an hour, then chill for 3 to 6 hours or until ready to cut.
All cook times and prep times are approximate.
Recipe by
Cookie Madness
at https://www.cookiemadness.net/2010/09/16/pineapple-sour-cream-pie/