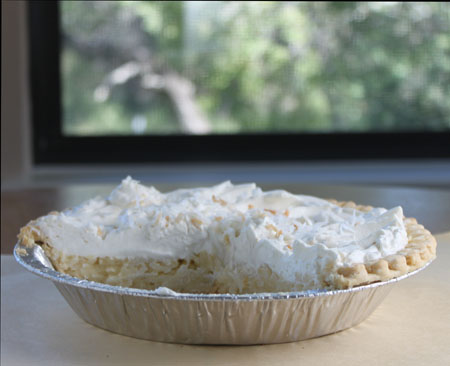 Author: Cookie Madness
Prep time: 20 mins
Cook time: 25 mins
Total time: 45 mins
A very basic but delicious coconut cream pie. For the crust, you can use a homemade graham cracker crust or a 9 inch blind-baked crust.
9 inch pie crust, frozen or homemade, blind baked
1/2 cup plus 2 tablespoons sugar (125 grams)
3 tablespoon cornstarch
1/4 teaspoon salt
1 1/2 cups milk
1/2 cup heavy cream
3 large egg yolks
1 1/2 teaspoons vanilla
1 1/4 cups shredded, sweetened coconut
2 teaspoons butter, sliced thinly off the stick (I have forgotten this a time or two!)
Whipped Cream Topping
1 cup heavy whipping cream
2 tablespoons powdered sugar, plus more to taste
1 teaspoon vanilla.
Toasted coconut for garnish
Mix the sugar, cornstarch and salt together in a medium size mixing bowl.
Pour the milk and cream in a heavy saucepan, then whisk the sugar mixture into the cream until it's free of any lumps.
Whisk the egg yolks in the bowl you used to mix the sugar and set it next to the stove.
Turn the heat to medium and whisk the milk mixture until it begins to bubble and is very hot. When hot, whisk about 1/4 cup of the hot milk mixture into the bowl of egg yolks, then whisk the rest of the milk into the egg yolks. Pour the egg yolk/milk mixture back in the saucepan, whisking all the while. Continue to whisk until mixture thickens and boils. Reduce heat to a low boil and whisk and boil for 1 minute.
Remove from heat and let cool for 5 minutes. Whisk in coconut and vanilla, then pour into the baked pie crust.
Arrange thin slices of butter over the hot pie filling and let them melt, making a thin layer of butter that coats the surface. Let cool for about an hour at room temperature, then transfer to the refrigerator. Chill for a few hours. Prepare whipped cream topping.
Beat the cream until peaks form. Beat in sugar and vanilla. Spread over pie. Chill until ready to serve.
Sprinkle toasted coconut over top for garnish.
Recipe by
Cookie Madness
at https://www.cookiemadness.net/2010/09/great-coconut-cream-pie/