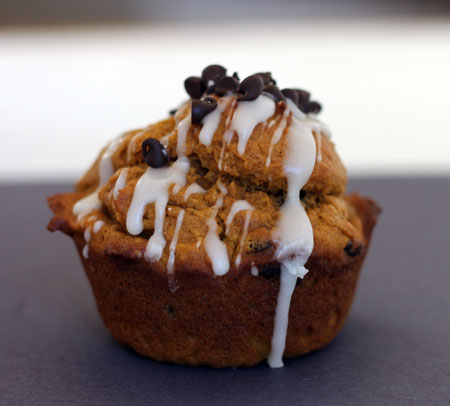 Author: Cookie Madness
Prep time: 10 mins
Cook time: 20 mins
Total time: 30 mins
Pumpkin muffins with high tops. A good way to use up leftover pumpkin.
2 cups all-purpose or white whole wheat flour ( 9 oz)
2 teaspoons baking powder
1/4 teaspoon baking soda
1 teaspoon cinnamon
3/4 teaspoons pumpkin pie spice**
1/2 teaspoon salt
4 tablespoons unsalted butter, melted
1/4 cup vegetable oil
3/4 cup packed dark brown sugar
1 heaping cup canned pumpkin (not pie filling)
1/4 cup buttermilk
2 large eggs
1 3/4 teaspoons vanilla extract
1/3 cup miniature chocolate chips
Icing:
1 tablespoon melted butter
1 cup powdered sugar (approximately)
1/4 teaspoon vanilla
2 tablespoons of milk or as needed
Preheat oven to 400°F. Spray 12 muffin tins with flour-added cooking spray or line with paper liners.
Mix the flour, baking powder, baking soda, pumpkin pie spice, and salt together and set aside.
In a mixing bowl, whisk together melted butter, oil, brown sugar, pumpkin, buttermilk, eggs, vanilla and chips. Add flour mixture to pumpkin mixture and stir until just combined.
Divide batter among the 12 muffin cups. Bake until a wooden pick comes out clean, about 20 minutes. Cool on a rack for about 10 minutes, then remove from muffin tins and let cool completely.
Mix the melted butter and powdered sugar together, coating the sugar with butter as best you can – mixture will be thick and lumpy. Stir in the vanilla. Add 1 tablespoon of milk and stir well. Continue adding milk 1 teaspoon at a time until you get an icing that's thin enough to drizzle but not so thin it will spread out when drizzled. Drizzle the icing over the cooled muffins. I sprinkled extra chips on top.
***If you don't have pumpkin pie spice, you can substitute another 1/2 teaspoon ground cinnamon, 3/8 teaspoon ground ginger, a pinch of allspice and a pinch of cloves.
Recipe by
Cookie Madness
at https://www.cookiemadness.net/2010/09/iced-pumpkin-muffins/