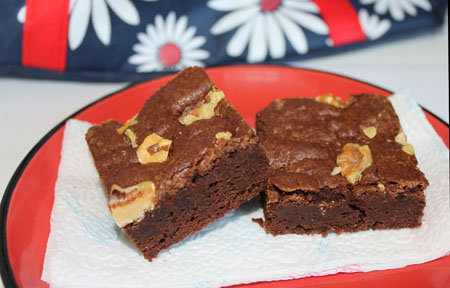 Perfect Recipe Baking Book -- Murray Jaffe's Perfect Brownies
Author: Cookie Madness
Prep time: 10 mins
Cook time: 30 mins
Total time: 40 mins
Murray's Perfect Brownies are an easy cocoa based brownie recipe.
4 ounces (1 stick) salted butter, room temperature **
1 1/2 cups granulated sugar
2 large eggs, room temperature
1/2 cup plus 1 tablespoon cocoa – measure then sift after measuring
1 cup plus 2 tablespoons all purpose flour
1/2 teaspoon baking powder
1/4 teaspoon salt **
1 tablespoon water
1 teaspoon vanilla
3/4 cup coarsely chopped toasted walnuts
Line an 8 inch square metal pan with foil and spray bottom with cooking spray.
Preheat oven to 350 degrees F. Position rack to center.
In a large bowl, beat the butter until creamy. Beat in the sugar until mixed in. Beat in the eggs (just until mixed -- don't beat in a lot of air), then add the cocoa and mix until smooth. Thoroughly blend together the flour, baking powder and salt. Add to the mixing bowl and beat for 2 minutes (important ). Add the water and vanilla and mix, then mix in the walnuts. Dough will be stilff and sticky.
Spread dough in pan and bake for 30 40 minutes (I baked for 30) or until a toothpick inserted in the center comes out without batter on it.
Let cool for a few hours, then lift from pan and cut into 16 squares.
**Murray uses salted butter. I used unsalted and increased the salt in the recipe by 1/4 scant teaspoon to make 1/2 scant teaspoon.
Recipe by
Cookie Madness
at https://www.cookiemadness.net/2010/10/murray-jaffes-perfect-brownies/