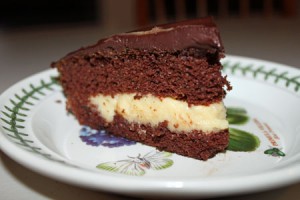 Chocolate Boston Cream Pie
Author: Cookie Madness
Prep time: 30 mins
Cook time: 45 mins
Total time: 1 hour 15 mins
I make this recipe with a handheld electric mixer and a few bowls. It has a few different parts to it, but it's actually pretty easy. The cake is a light textured chocolate sponge and the pastry cream is a fairly simple one that can be made all in one metal saucepan. I make the whole cake with a scraper and a handheld electric mixer. There's really no need for a stand mixer here.
Chocolate Sponge Cake:
6 tablespoons boiling water
1/4 cup unsweetened natural cocoa powder
3/4 cup plus 2 tablespoons cake flour (100 grams)
3/4 cup plus 2 tablespoons granulated sugar (170 grams)
3/4 teaspoon baking soda
1/2 teaspoon salt
1/4 cup vegetable oil
1 teaspoon vanilla extract
3 extra large eggs, separated
1/8 teaspoon cream of tartar
Vanilla Filling:
6 tablespoons granulated sugar
2 tablespoons cornstarch
Pinch salt
2 large egg yolks
1/2 cup heavy cream
3/4 cup milk
1 teaspoon vanilla
1 teaspoon butter, cut up
Chocolate Glaze:
4 ounces semi-sweet chocolate, chopped
1/3 cup of heavy cream
1 tablespoon of light corn syrup or honey
Preheat oven to 325 degrees F. Grease and flour a 9x2 inch cake pan and put a round of parchment on the bottom to prevent sticking.
Combine boiling water and cocoa powder in a small bowl and stir until smooth. Let cool.
In a large mixing bowl, thoroughly stir together the cake flour, sugar, baking soda and salt.
Add the oil and stir with a heavy duty scraper so that it coats the flour, then add the egg yolks, vanilla and cooled cocoa mixture. Stir with the scraper until well mixed, but don't use the electric mixer yet, the point being to keep your beaters clean for the egg whites.
In another bowl, using your electric mixer, beat egg whites and cream of tartar until stiff peaks form. Set the whites aside, then go ahead and beat the flour/cocoa mixture on medium speed for about a minute or just until well blended. With a heavy duty scraper, fold in the whites 1/3 at a time.
Pour into pan. Set the cake pan on a cookie sheet and bake on lowest rack at 325 degrees F for 45 minutes or until cake springs back when touched. Let the cake cool on a rack for 10 minutes, then invert twice and let cool on a rack.
Filling: Off heat, combine the sugar, cornstarch and salt in a 3 quart metal saucepan. Using a heavy duty heat proof scraper and a whisk, whisk in the egg yolks, scraping any of the mixture out of the corners of the pan with the scraper. Gradually whisk in milk, scraping as you go, then gradually whisk in the cream.
Set mixture over medium heat and begin whisking (and scraping if you need to) until mixture boils and thickens. if you're using a metal pan, this will probably take less than 5 minutes. When it starts to boil, continue whisking for for 1 minute. Remove from heat and pour into a separate bowl. Whisk in the butter and vanilla. Lay a piece of parchment over the pudding so that a skin will not form. Let cool at room temperature for about 30 minutes or until you are ready to fill the cake.
Assemble Cake. Split cake and spoon filling into center spreading it evenly.
For the glaze, place finely chopped chocolate in a small bowl or large (2 cup) glass measuring cup. Boil cream and corn syrup (or honey), pour over chocolate and whisk until smooth. Pour glaze on top of cake, smoothing it with a spatula.
Recipe by
Cookie Madness
at https://www.cookiemadness.net/2010/10/13/chocolate-boston-cream-pie/