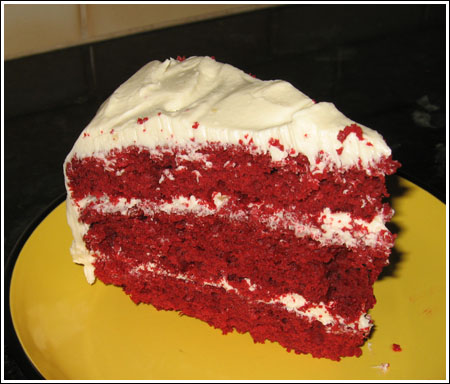 Waldorf Astoria Original Red Velvet Cake with Cooked Icing
Author: Cookie Madness
Prep time: 20 mins
Cook time: 20 mins
Total time: 40 mins
This recipe is supposed to be similar to the original Waldorf Astoria Red Velvet Cake. If you want to use butter instead of shortening, pick a different cake because this one needs the shortening. Do not use anything other than cake flour and make sure to sift it or weigh it. Using too much flour makes red velvet cake dry.
1/2 cup (3.4 ounces/96 grams) shortening
1 1/2 cups granulated sugar (285 grams)
2 large eggs
1 teaspoon vanilla extract
1 teaspoon butter extract
1 1/2 ounces red food coloring
3 tablespoons natural unsweetened cocoa powder
1 teaspoon salt (I use Morton Kosher)
2 1/2 cups sifted cake flour (240 grams, make sure to weigh)
1 cup buttermilk
1 teaspoon baking soda
1 tablespoon vinegar
Frosting
3 tablespoons flour
1/2 teaspoon salt (omit if using salted butter)
1 cup whole milk
2 sticks (8 oz) unsalted butter, softened
1 cup granulated sugar
2 teaspoons vanilla extract
Preheat the oven to 350 degrees F. Spray three 9-inch round cake pans with flour-added cooking spray. For a higher ratio of cake to frosting, use two 9x2 inch pans. You may also use three 8-inch pans. If you use three 8-inch or go with two 9-inch, you will probably need to tack on about 4 minutes to the cook time due to the batter being deeper.
Using high speed of electric mixer, beat shortening and sugar until creamy. Beat in eggs, vanilla extract and butter extract, scraping sides of bowl occasionally. Make a paste of red food coloring and cocoa powder, then stir that in. Or, do what I did and stir the red food coloring and cocoa in, then beat. When the batter turns red, stir in the salt and beat so that it's very well mixed. Starting and ending with flour, add the flour and buttermilk alternately to batter, stirring so that flour gets absorbed.
Place the baking soda in a little cup. Add the vinegar to the baking soda, then stir the fizzy vinegar mixture into the cake batter to lighten it.
Now, dump the cake batter into the pans, dividing evenly.
Bake for 20 minutes or until a wooden skewer inserted in the center comes out with moist crumbs. Let cakes cool in pans on a rack for 10 minutes. Flip out of pans and cool completely. Note: If your oven runs hot, cook the red velvet cake at 325 degrees F. The cakes will turn out dry if overcooked.
Make the frosting. In a heavy saucepan, whisk together 3 tablespoons of flour and 1/4 cup of the milk until smooth. Whisk in salt and remaining milk. Turn heat to medium and cook, whisking constantly, until mixture is thick and creamy. Let it cool completely.
Using your electric mixer, beat butter and granulated sugar until fluffy. Beat in the vanilla. Beat in the thoroughly cooled flour mixture. Beat and beat until the icing is fluffy and no longer grainy (this may take a while, depending on how good your mixer is). For this recipe, I recommend using a stand mixer.
Cover cake with frosting.
Recipe by
Cookie Madness
at https://www.cookiemadness.net/2007/07/22/waldorf-astoria-original-red-velvet-cake-with-cooked-icing/