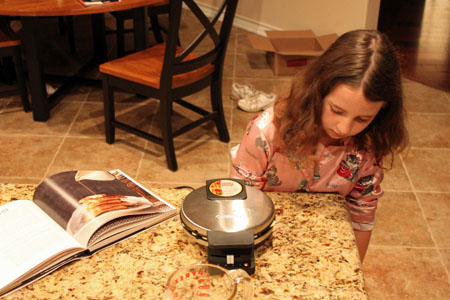 Author: Cookie Madness
Prep time: 10 mins
Cook time: 5 mins
Total time: 15 mins
Malted Waffles are waffles with malted milk powder in the batter.
1 cup all-purpose flour (135 grams)
1/2 cup malted milk powder
1/2 teaspoon baking soda
3/4 teaspoon baking powder
1/4 teaspoon salt
1 tightly packed tablespoon brown sugar (30 grams)
1 large egg
3 tablespoons unsalted butter, melted and cooled
1 1/4 cups buttermilk
Mix the dry ingredients in a bowl and make a well in the center.
In a second bowl, whisk the egg. Whisk in the butter and buttermilk.
Add the liquid mixture to the flour mixture and stir just until mixed – there will be some lumps.
Heat waffle maker as per manufacturer directions and. Brush lightly with oil. Drop batter onto waffle maker and use technique from manufacturer to make the waffles.
If you have some butterscotch morsels around, throw in a handful.
Recipe by
Cookie Madness
at https://www.cookiemadness.net/2010/11/06/malted-waffles/