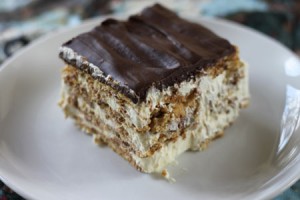 Small Batch Chocolate Éclair Cake
Author: Cookie Madness
Prep time: 10 mins
Cook time: 1 min
Total time: 11 mins
Chocolate Eclair Cake made in an 8 inch square dish using 1 box of pudding
1 (3.4 oz) box of Jell-O instant vanilla pudding
1 1/2 cups milk (2%)
1/2 of an (8 oz) tub Cool Whip or you could use 1/2 cup whipping cream, whipped and sweetened with some powdered sugar
1/2 a box graham crackers or however many you need to make 3 layers
Chocolate Icing
3 tablespoons softened butter
3 tablespoons natural unsweetened baking cocoa
1 1/2 cups powdered sugar
3 tablespoons of warm milk
1/2 teaspoon of vanilla
Whisk pudding mix and milk for about 2 minutes. Pudding should start to thicken. Fold in the whipped topping or freshly whipped cream.
Arrange graham cracker squares across the bottom of an 8 inch baking dish. You may need to break some of them into small pieces to cover the bottom of the dish. Spread some of the pudding mixture across the graham crackers. Layer on more graham crackers and more pudding mix twice so that you have a total of 3 layers of graham crackers and two layers of pudding mixture.
To make the icing, beat the butter, cocoa powder and sugar together, then add milk and beat until creamy and smooth. Beat in vanilla.
The photo is of eclair cake made with a total of four layers of graham crackers, but lately I've been making it with 3 layers total.
Recipe by
Cookie Madness
at https://www.cookiemadness.net/2010/11/small-batch-chocolate-eclair-cake/