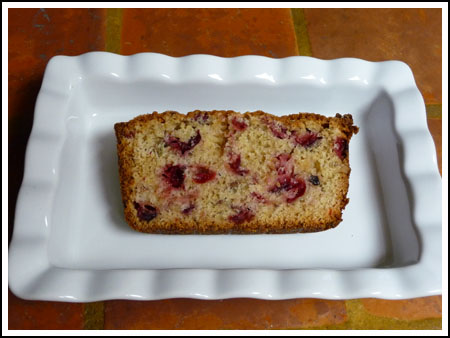 Texas Jalapeno Cranberry Bread
Author: Cookie Madness
Total time: 1 hour 20 mins
An interesting (and good!) twist on cranberry bread. Very fun to serve at Thanksgiving.
4 cups all-purpose flour (18 oz)
2 cups granulated sugar
1/2 cup light brown sugar
1 teaspoon salt
1/2 teaspoon baking soda
1 tablespoon baking powder
1/2 teaspoon black pepper
1/2 teaspoon ground cumin
1 cup pecans, chopped
3 eggs, beaten
3/4 cup orange juice
1 teaspoon vanilla
2 tablespoons mild salsa
2 tablespoons jalapeno jelly (increase for more "heat")
4 oz regular butter, melted
1 bag (12 ounces) cranberries, coarsely chopped
Preheat oven to 350 degrees. Grease 2 large loaf pans or 6 small loaf pans.
Mix dry ingredients, including nuts, in a large bowl.
Combine wet ingredients and cranberries in a medium bowl. Make a well in the center of dry ingredients. Pour wet ingredients into the well and fold only until dry ingredients are moist. Mixture will be stiff. Do not over stir. Spread into pans and bake 70 minutes for large loaf pans or 30-35 minutes for small loaf pans. Reduce baking time 5-10 minutes for dark pans. Cool 10 minutes before removing from pans. Cool completely before wrapping and freezing. Yield: 2 loaves.
Recipe by
Cookie Madness
at https://www.cookiemadness.net/2010/11/23/texas-jalapeno-cranberry-bread/