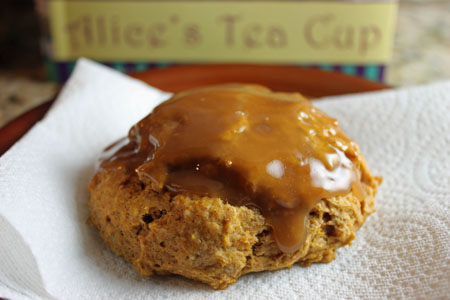 Alice's Tea Cup Pumpkin Scones
Author: Cookie Madness
Prep time: 10 mins
Cook time: 12 mins
Total time: 22 mins
Half Batch Alice's Tea Cup Pumpkin Scones
1 1/2 cups all-purpose flour
3 tablespoons granulated sugar
1/4 teaspoon baking soda
1 1/4 teaspoons baking powder
3/8 teaspoon kosher salt (I used Morton)
1 tablespoon ground ginger
1 tablespoon ground cinnamon
6 tablespoons unsalted butter, cut into 1/2-inch pieces (mine was cold)
5 oz buttermilk
1/2 cup canned pumpkin puree (all pumpkin, not pumpkin pie filling)
1 tablespoons pure vanilla extract
Caramel glaze:
1 stick (4 oz) unsalted butter
1/2 cup firmly packed light brown sugar
1/4 teaspoon freshly squeezed lemon juice
1/8 teaspoon kosher salt
1/4 cup heavy cream
Preheat the oven to 425°F. In a large mixing bowl, combine the flour, sugar, baking soda, baking powder, salt, ginger, and cinnamon. With clean hands, work the butter into the dry mixture until it is thoroughly incorporated and has the consistency of fine breadcrumbs.
Make a well in the center of the dry ingredients, and pour the buttermilk, pumpkin, and vanilla extract into the well. Still using your hands (I did this with a spatula scraper), combine the ingredients until all the dry mixture is wet, but do not knead!
Turn the mixture onto a floured surface and gather the dough together. Gently pat the dough to make a disk about 1 1/2 inches thick.(My dough was pretty soft, so I used about a 1/3 cup measure and made drop scones) using a 3-or 3 1/2- inch biscuit cutter, cut out as many scones as you can and lay them on a nonstick baking sheet. Gather the remaining dough together lightly to cut out more scones—just don't knead the dough too much (Again, I bypassed all that and made drop scones.
Bake the scones for about 12 minutes, or until lightly browned. Let the scones cool slightly on the baking sheet (about 20 minutes) before glazing them.
While the scones are cooling, prepare the caramel glaze: Place the butter, brown sugar, lemon juice, and salt in a saucepan over medium heat and whisk gently until the mixture is smooth. Just as the mixture comes to a light boil, add the heavy cream and reduce the heat to low. Whisk well for 2 minutes, or until the glaze is thickened and smooth; then remove the pan from the heat.
To glaze a scone, hold it by the bottom, dip the top in the warm caramel glaze, and place it back on the baking sheet. Makes 5 o 6
This is a half version of the original recipe. I bought the book right when it came out and the original full version called for 1/4 cup cinnamon and 1/4 cup ginger.
Recipe by
Cookie Madness
at https://www.cookiemadness.net/2010/12/05/alices-tea-cup-pumpkin-scones/