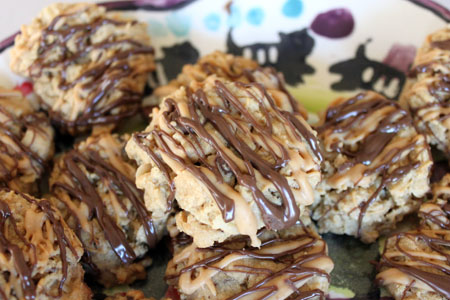 Double Striped Peanut Butter Cookies
Author: Cookie Madness
An excellent and very pretty peanut butter cookie. Recipe is adapted from The Hershey's Kitchen in Hershey, PA.
3/4 cup creamy peanut butter
1/2 cup (1 stick) butter or margarine, softened**
1/3 cup granulated sugar
1/3 cup packed light brown sugar
1 egg
2 tablespoons milk
1 teaspoon vanilla extract
1-1/3 cups quick-cooking oats, divided
1 cup all-purpose flour
1 teaspoon baking soda
1/2 teaspoon salt
1/2 cup HERSHEY'S Milk Chocolate Chips
2 teaspoons shortening (do not use butter, margarine, spread or oil)
1/2 cup REESE'S Peanut Butter Chips
Heat oven to 350°F. Beat peanut butter and butter in large bowl until well blended. Add granulated sugar and brown sugar; beat until fluffy. Add egg, milk and vanilla; beat well. Stir together 1/2 cup oats, flour, baking soda and salt; gradually beat into peanut butter mixture.
Shape dough into 1-inch balls. Roll in remaining oats; place on ungreased cookie sheet. Flatten cookies with tines of fork to form a crisscross pattern.Bake 10 to 12 minutes or until lightly browned. Cool slightly; remove from cookie sheet to wire rack. Cool completely. Place chocolate chips and 1 teaspoon shortening in medium microwave-safe container. Microwave at MEDIUM (50%) 30 seconds; stir. If necessary, microwave at MEDIUM an additional 10 seconds at a time, stirring after each heating, until chocolate is melted and smooth when stirred. Drizzle over cookies. Repeat procedure with peanut butter chips and remaining shortening. Allow drizzles to set.
If using unsalted butter, add a scant 1/4 teaspoon of salt.
Recipe by
Cookie Madness
at https://www.cookiemadness.net/2010/12/double-striped-peanut-butter-cookies/