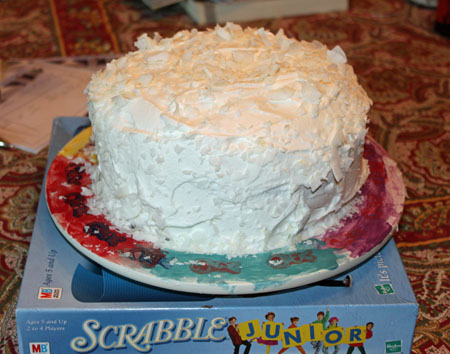 Chocolate Cake with Raspberry Filling and Coconut Cream Frosting
Author: Cookie Madness
An excellent and very simple chocolate cake with a raspberry filling and super easy sour cream frosting.
1 3⁄4 cups all-purpose flour
3⁄4 cup unsweetened cocoa ( used Valrhona Dutch)
1 1⁄2 cups granulated sugar
1⁄2 cup packed brown sugar
1 1⁄2 tsp baking soda
1⁄2 tsp baking powder
1⁄2 tsp kosher salt
1 cup whole milk
1⁄2 cup canola oil
2 large eggs
2 tsp pure vanilla extract
3⁄4 cup boiling water
Filling:
1 cup (more or less as desired) raspberry pie filling
Frosting:
1 1⁄2 cups heavy cream
1⁄2 cup reduced-fat sour cream
1⁄4 cup confectioners' sugar
2 cups unsweetened coconut (flakes, chips or shredded)
Heat oven to 350°F. Coat two 8 x 2-in. round cake pans with flour-added cooking spray. Line bottoms with wax paper or parchment; spray the paper. Dust with flour ( didn't dust with flour).
In a large bowl, mix together flour, cocoa, granulated and brown sugars, baking soda, baking powder and salt.
In a large measuring cup or bowl, whisk together milk, oil, eggs and vanilla. Add the milk mixture to the flour mixture and mix until fully incorporated.
Add the boiling water to the batter and mix well to combine (the batter will be thin). Divide the batter between the prepared pans and bake until a wooden pick inserted in the center comes out clean, 35 to 40 minutes. Let cool for 10 minutes in the pan before transferring to a wire rack to cool completely.
If using pie filing, split the layers horizontally and fill split layers with pie filling.
Beat the heavy cream, sour cream and confectioners' sugar in a large bowl until stiff peaks form. Place one of the filled cakes on a platter and spread 1 cup frosting over the top. Top with the remaining cake and frost with the remaining icing. Gently pat the coconut all over the cake. Serve immediately or refrigerate, up to 1 day.
Try with cherry pie filling.
Recipe by
Cookie Madness
at https://www.cookiemadness.net/2010/12/chocolate-cake-with-raspberry-filling-and-coconut-cream-frosting/