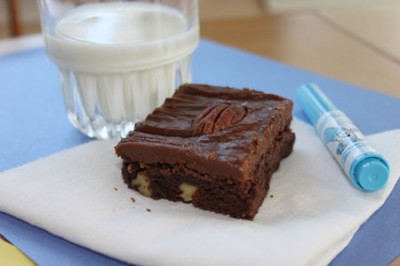 Author: Cookie Madness
Prep time: 20 mins
Cook time: 20 mins
Total time: 40 mins
Rich fudge brownies with a cooked fudge frosting.
4 oz unsalted butter
1 cup granulated sugar
2 large eggs
1 teaspoon vanilla
1/4 teaspoon baking powder
1/4 scant teaspoon salt
1/2 cup all purpose flour
1/3 cup Hershey's natural cocoa (not sure what results you'd get with Dutch)
1/2 cup chopped pecans (optional)
Frosting (Note at Bottom)
2 tablespoons unsweetened cocoa powder
1 1/3 cups powdered sugar
3 tablespoons butter
2 tablespoons milk
1/4 teaspoon vanilla extract
1/4 cup chopped pecans (optional) or 9 pecan halves
Preheat oven to 350 F. Line an 8 inch metal pan with foil and mist the bottom with cooking spray.
Melt the butter in a microwave-safe bowl. Whisk in the sugar, then whisk in the eggs and vanilla. In a separate bowl, mix together the flour, baking powder, salt and cocoa powder. Gradually add flour mixture to the batter. Stir in the pecans (if using). Pour into pan and bake for 20-25 minutes (I baked for 20). Pull from oven and make frosting.
Frosting: Stir together cocoa powder and powdered sugar. If you have time, you might want to sift it. Melt the butter in a saucepan. Add the milk. Stir it into the chocolate/sugar mixture. Stir in the vanilla. Add pecans if using. Pour over the warm brownies and kind of spread it a little to cover. Garnish with pecan halves.
Let brownies cool completely, then chill for several hours (this makes them easier to cut and neater). Lift from pan, set on a cutting board, trim edges and cut into squares.
Here's another method for making the frosting. I sometimes use the one above, and I sometimes use this one depending on my mood. I think this one's a little smoother.

Fudge Frosting

1 1/3 cups confectioners' sugar
3 tablespoons butter
2 tablespoons unsweetened natural cocoa powder, Dutck okay
2 1/2 tablespoons milk
1/4 teaspoon vanilla extract

Icing: Sift the confectioners' sugar into a mixing bowl and set aside. You can skip the sifting step if you must, but sifting helps it to blend easier and the icing will be smoother. Melt the butter in a saucepan set over medium heat. When butter is almost melted, add the cocoa and milk and bring just to a boil. As soon as the mixture reaches a good boil, remove from heat. Pour the hot boiling cocoa mixture into the bowl of sifted confectioners' sugar. Add the vanilla and stir with a wooden spoon until smooth. Work quickly so that icing won't start to set in the bowl. Pour over the brownies and let sit until firm.
Recipe by
Cookie Madness
at https://www.cookiemadness.net/2011/01/frosted-fudge-brownies/