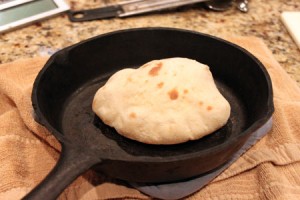 Author: Cookie Madness
Prep time: 10 mins
Cook time: 5 mins
Total time: 15 mins
Pita bread that really puffs up into pockets when cooked at a high heat.
1 1/4 cups warm water (110 degrees to 115 degrees F)
1 (.25 ounce) package active dry yeast
2 1/2 teaspoons granulated sugar
1 1/2 teaspoons salt plus a 1/8 tsp. pinch
3 cups all-purpose flour (13.5 oz)
1 tablespoon olive oil or as needed for the bowl
Put the water in bowl of a stand mixer. Add yeast and stir to dissolve. Add sugar, salt and flour. Stir well. Dough should be a little sticky. Using dough hook, knead for about 5 minutes or until you have a smooth and elastic dough. After kneading, it will be smooth and elastic and a tiny bit slippery.
Rub a second bowl with the olive oil, transfer dough to oily bowl, roll dough around in the bowl to coat with oil. Cover with plastic wrap and let it rise in a warm place until doubled in bulk (an hour).
Punch down dough and shape dough into 6 rounds (mine were more like gobs, but not too ridiculously sticky). Set the rounds on a parchment lined cookie sheet to rest for about 15 minutes.
Meanwhile, put a cast-iron skillet in the oven and preheat the oven to 500 degrees F. While oven preheats, (and after dough has rested) take one of the dough gobs, and shape it into a 5 or 6 inch round (Try for an even thickness) on a surface lightly coated with flour. Use just enough flour to keep it from sticking.
With a couple of hot pads, carefully remove the hot skillet from the oven and set on another hot pad. Transfer the dough round to the hot skillet trying your best to keep it in its 5 inch (ish) circle.
Quickly put the skillet back in the oven and cook for 3-5 minutes. My pitas took 3 minutes. Repeat with remaining 5 pitas. Makes 6 pitas.
My pitas seem to puff up more when I use all-purpose flour. Also, if using quick rise or instant yeast, add the yeast with the flour and have the water between 120 and 130 degrees F.
Recipe by
Cookie Madness
at https://www.cookiemadness.net/2011/01/pita-pockets/