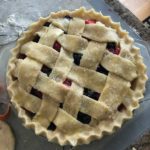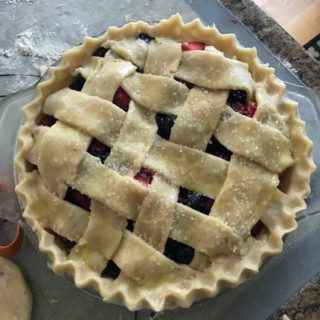 Print Recipe
Four Berry Pie
Four Berry Pie made with blueberries, raspberries, strawberries and blackberries.
Pie Crust
2 1/2

cups

all-purpose flour

320 grams

1

teaspoon

salt

reduce to ½ if butter is salted

1/3

cup

65 grams shortening

1/2

cup

114 grams unsalted butter

1

tablespoon

sugar

1/2

cup

ice cold water

or as needed
Filling:
2

cups

blueberries

2

cups

blackberries

1 1/2

cups

strawberries

2

cups

raspberries

1

tablespoon

fresh lemon juice

3/4

cup

granulated sugar

1/4

cup

Minute tapioca

I ground it up, but not really necessary

Egg Wash: 1 egg beaten

did not mix with any milk
Pie Crust: Combine flour, salt, shortening, butter and sugar in the bowl of a food processor. Pulse mixture until coarse with pea size bits, then add water two tablespoons at a time and pulse until mixture holds together (you''ll probably use it all). Empty onto a flat surface and shape into two disks. Wrap in plastic and chill until ready to use.

Roll half the pie dough about 1/8 inch thick and line a deep dish pie dish (I used a greased 9 ½ deep dish Pyrex). Put it in the freezer for about 10 minutes or just long enough to firm-up the dough, then press plastic wrap up against it and keep it frozen for 30 minutes or up until you are ready to proceed with the recipe.

Preheat to 425 (you will actually bake at 375, but it's good to get the oven nice and hot). Also, put a heavy duty rimmed baking sheet in the oven and allow it to heat up with the oven. Preheating the baking sheet will help give you a firm bottom crust.

Filling: Combine all berries in a large mixing bowl and toss with lemon juice. Mix together the sugar and tapioca, then toss with the berries. Let sit in bowl for 15 minutes while you make strips.

Roll the second ball of dough into an 10x11 inch rectangle and cut 10 11 inch long strips.

Put the berry mixture into the pie shell and use the strips to form a lattice. I'm not an expert at this, but the method I use is to lay 5 strips across the top, then weave 5 strips between them. Brush strips with a little beaten egg (or use heavy cream if you prefer).

Set the pie on the hot baking sheet, then put it in the oven and bake for 15 minutes at 425.

Reduce heat to 375 and bake for 45 minutes or until lattice is golden brown.

Let the pie cool completely before serving.