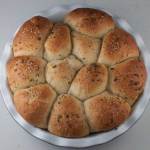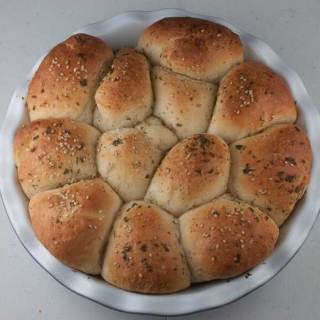 Print Recipe
Monkey Bread with Garlic
This is savory version of monkey bread made with a flavored garlic butter.
Combine the melted butter, parsley flakes, garlic powder and salt in a bowl.

Pour just enough of the melted butter mixture into a 9 inch deep dish pie plate to coat the bottom. Brush a little bit on the sides as well.

Dip thawed dough pieces in remaining butter mixture and arrange them dipped side up in the plate. Brush any remaining butter over the top.

Cover with an overturned mixing bowl and let rise at room temperature until doubled in bulk -- about 1 1/2 to 2 hours depending on how cold the dough is.

Preheat oven to 350 degrees and bake for 30 minutes or until golden brown.