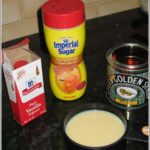 Print
Vanilla Fudge -- Scottish
Vanilla fudge is basically fudge without the chocolate. This recipe is supposed to be Scottish in origin. I've never been to Scotland, but I saw a very similar version while in London.
1/4

cup

salted butter

4 tablespoons or 60 grams

1/4

c.

golden syrup or a combination of half golden syrup/half white syrup

1 1/2

cups

quick dissolving sugar

7

oz

or 196 grams

1/2 of a standard 14 oz can condensed milk

1/2

teaspoon

vanilla extract
Line a 9x5 loaf pan with parchment or nonstick foil.

Melt butter over medium-low heat. Add golden syrup, sugar and condensed milk. Cook, stirring gently, over medium-low heat to 245 degrees F. Remove from heat, add vanilla and beat with a wooden spoon for 1 minute. Dump into lined pan and let cool. Lift from pan and cut into squares.

Note: If you have a scale, it's a good idea to weigh out your condensed milk rather than just eyeball it.