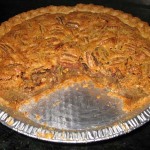 Print
Easiest Ever Pecan Pie -- No Corn Syrup
Easiest Ever Pecan Pie may not really be the easiest, but it's pretty simple. No corn syrup required!
Preheat oven to 325 degrees F.

Toast pecans using whatever method you prefer. I like to roast them at 350 for about 8 minutes, then chop them.

Melt butter in saucepan and let cool slightly.

In a mixing bowl, whisk together both sugars and flour. Whisk in eggs, evaporated milk and vanilla, followed by melted butter and toasted pecans. Pour into unbaked pie crust.

Set on a cookie sheet and bake at 325 degrees for 50 minutes. Let cool completely.