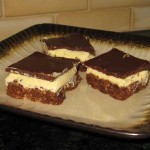 Print
Nanaimo Bars
A delicious bar cookie with a graham cracker base, creamy pudding filling and chocolate fudge topping.
Filling:
1/2

cup

butter

2

cups

confectioner's sugar

1/2

teaspoon

vanilla

2

tablespoons

instant pudding mix

2

tablespoons

milk
Preheat oven to 350 degrees F. Line a 9 inch square metal pan with nonstick foil or parchment paper.

Stir together melted butter, sugar and cocoa powder. Stir in egg and vanilla, followed by coconut, nuts and graham cracker crumbs. Press crumb mixture tightly into pan and bake for 10 minutes. Let cool completely.

Cream butter and 1 cup of the confectioners sugar with an electric mixer. Beat in vanilla and pudding mix. Stir in remaining confectioner's sugar and milk. Beat until fluffy. Spread over cooled bars and chill.

Melt chocolate with butter (or whatever you are using). Pour over chilled bars. Return to refrigerator to set chocolate.