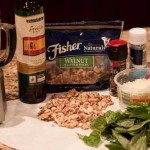 Print
Walnut Pesto Recipe
This is a delicious pesto made with basil and walnuts instead of the usual pine nuts.
Chop the basil and garlic in a mini food processor.

Gradually add ½ cup of the oil.

Add the walnuts, Parmesan cheese, salt, lemon juice and honey and process until mixed.

At this point, my pesto is sometimes a little too thick for my tastes so I add more oil. You can add more oil or leave it as is. Taste as you go. Adjust the salt if needed.