I rarely get free nuts in the mail, but last week Fisher sent a sample of walnuts and asked if I'd review their new "Freshness Seal" bag. Since I buy nuts all the time and have grown quite picky about them (if you've ever bit into a great cookie with a stale nut, you're probably picky too) I said of course.
The bag is definitely an improvement.   It stands up, and since I have a tendency to lose the nuts in the middle of baking (things get hectic, what can I say?) having a big bag standing in front of me is an asset. But what was more impressive was how the nuts tasted. They had kind of a buttery quality and more flavor than any walnut I've ever eaten. Maybe it was the bag or maybe Fisher just sent me the freshest and best nuts they  could find, but these were good. I liked them so much I used them in walnut pesto.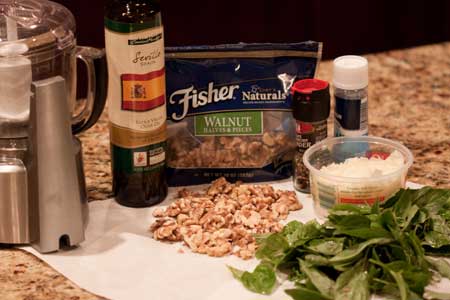 Have you seen the prices of pine nuts lately? You could buy a jar of fancy gourmet pesto for the price of pine nuts, so using walnuts made homemade pesto more economical. For this walnut pesto, I used the same formula I use for pine nut pesto, which is a little different than most due to the lemon and honey. You can add one or both or leave one or both out, but I think the lemon and especially the tiny bit of sweetness from the honey really punches up the flavor. It doesn't make the pesto sweet, but it brings out the other flavors somehow. As always, taste as you go and adjust the flavors to fit your taste.
Recipe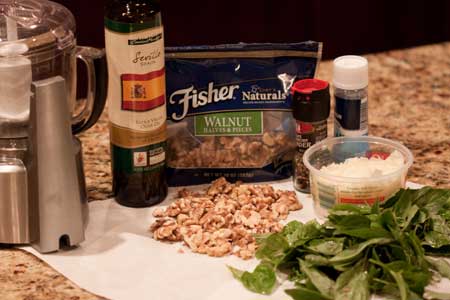 Walnut Pesto Recipe
This is a delicious pesto made with basil and walnuts instead of the usual pine nuts.
Ingredients 
2

cups

packed basil leaves

2 oz

2

cloves

garlic

⅔

cup

olive oil

½

cup

finely chopped walnuts

toasted

½

cup

grated parmesan cheese

¼

teaspoon

salt plus a little more if needed

2

teaspoons

lemon juice

¾

teaspoon

honey
Instructions 
Chop the basil and garlic in a mini food processor.

Gradually add ½ cup of the oil.

Add the walnuts, Parmesan cheese, salt, lemon juice and honey and process until mixed.

At this point, my pesto is sometimes a little too thick for my tastes so I add more oil. You can add more oil or leave it as is. Taste as you go. Adjust the salt if needed.