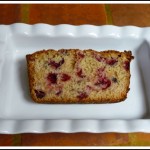 Print Recipe
Texas Cranberry Jalapeno Bread
Cranberry Jalapeno Bread is a surprisingly good quick bread with a little heat to it!
Preheat oven to 350 degrees. Grease 2 large loaf pans or 6 small loaf pans.

Mix dry ingredients, including nuts, in a large bowl.

Combine wet ingredients and cranberries in a medium bowl. Make a well in the center of dry ingredients.

Pour wet ingredients into the well and fold only until dry ingredients are moist. Mixture will be stiff. Do not over stir.

Spread into pans and bake 70 minutes for large loaf pans or 30-35 minutes for small loaf pans. Reduce baking time 5-10 minutes for dark pans. Cool 10 minutes before removing from pans. Cool completely before wrapping and freezing. Yield: 2 loaves.