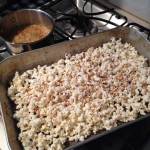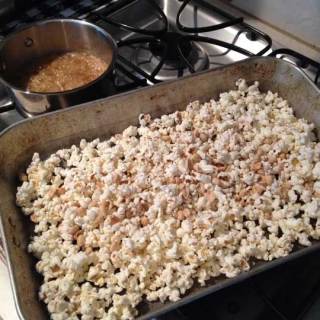 Print
Easy Caramel Corn
Easy caramel corn is an inexpensive and delicious snack. This recipe makes a smaller size batch than most.
Preheat oven to 250 degrees F. Spray a roasting pan with cooking spray or grease it with butter; Spread popcorn and peanuts in pan.

In a heavy saucepan, melt butter over medium heat. Add sugar, syrup and salt and bring to a boil. From the time the mixture reaches a boil, boil without stirring for 2 minutes. Turn off heat and stir in baking soda and vanilla. Pour over popcorn, mixing thoroughly.

Bake for 1 hour, stirring every 20 minutes. Let cool completely.