Easy Caramel Corn — Updated!
This easy caramel corn has become a family favorite.  I don't make it often because I have a terrible caramel corn addiction and tend to go at it like a wolverine, but when I do make it I like this recipe because it makes a relatively small batch — 6 to 8 cups, depending on how sweet you want it.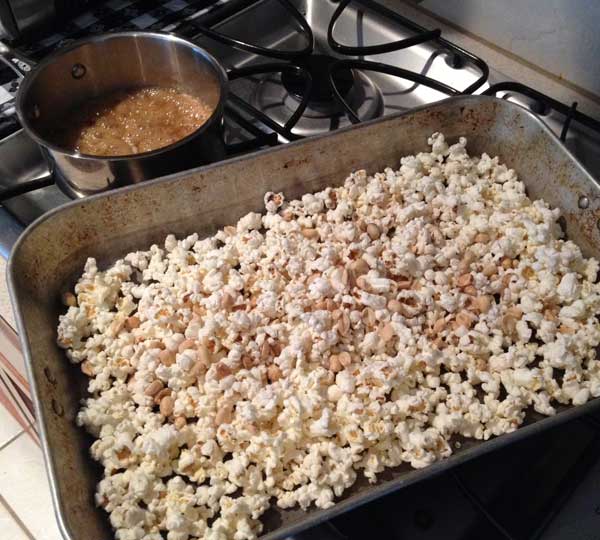 Another thing worth mentioning is that I make the popcorn in the microwave without any extra oil.  If you haven't mastered the art of making popcorn in a brown lunch sack in the microwave, Just keep in mind times and temps will vary and you might have to make a couple of practice batches.  I generally put about  1/4 cup unpopped corn in a lunch sack, fold the top over and leave lots of room for the corn to expand, and heat on high until popping subsides.  Depending on how powerful your microwave is, setting and times will vary.   In my old microwave, 1/4 cup of corn would pop in less than two minutes.  In my new microwave it takes closer to 3.  If your corn burns before all of it is popped, try using power level 8 or a slightly lower setting than high.
Easy Caramel Corn
Easy caramel corn is an inexpensive and delicious snack. This recipe makes a smaller size batch than most.
Ingredients
6 cups popped popcorn, or use 8 if you like less coating/more corn
1/3 cup salted peanuts, optional
4 tablespoons butter
1/2 cup brown sugar (light or dark okay)
2 tablespoons light corn syrup
1/4 teaspoon salt
1/8 teaspoon baking soda
1/4 teaspoon vanilla extract
Instructions
Preheat oven to 250 degrees F. Spray a roasting pan with cooking spray or grease it with butter; Spread popcorn and peanuts in pan.
In a heavy saucepan, melt butter over medium heat. Add sugar, syrup and salt and bring to a boil. From the time the mixture reaches a boil, boil without stirring for 2 minutes. Turn off heat and stir in baking soda and vanilla. Pour over popcorn, mixing thoroughly.
Bake for 1 hour, stirring every 20 minutes. Let cool completely.