If you're starting to think about Valentine's Day desserts or if you just like chocolate cheesecake, here's a good one that serves two. I came up with this a few years ago and have had fun trying different variations. Sometimes I make it with a cookie dough crust (like in the picture) and other times I use graham crackers.
To make this, you need a "petite" loaf pan. I use one that looks like this, but you can use any brand so long as it measures about 6 x 3 x 2 (doesn't have to be precise).
What's fun about making cheesecakes in little petite pans is unlike a springform pan, you don't have to deal with wrapping the pan in foil to keep it from leaking in a water bath. You can also cut the rectangular cake into two neat squares and plate them creatively.
This recipe serves two, but it doubles quite easily to serve 4. In fact, I usually double what's below, make two petite loaf pans and freeze one for another time.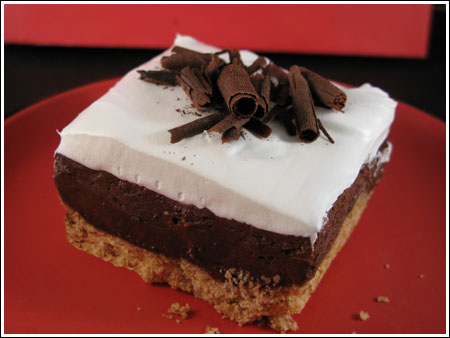 Chocolate Cheesecake for Two
1/2 cup graham cracker crumbs (6 squares, crushed)
1 tablespoon sugar
1 tablespoon melted butter
1/2 cup (3 oz) dark or semi-sweet chocolate chips
4 ounces cream cheese, softened
2 tablespoons granulated sugar
1/2 teaspoon vanilla extract
1 large egg white (room temp)
Topping:
1/2 to 2/3 cup sweetened fresh whipped cream or whipped topping
Fresh strawberries or raspberries
Preheat oven to 325 degrees F. Line inside of a petite loaf pan with non-stick aluminum foil, leaving a small overhang for lifting.
Mix together crumbs, sugar and butter; press mixture into bottom of the lined pan.
Using microwave or double boiler, melt the chocolate chips In a medium size (2 quart) mixing bowl, combine melted chocolate and cream cheese; beat until well mixed. Beat in sugar and vanilla extract. Add egg white and stir until smooth.
Spoon chocolate batter over graham cracker crust; Place the mini loaf pan in a square pan (8 or 9 inch) and pour warm water into the square pan so that it comes halfway up side of the loaf pan. Bake at 325 degrees F. for 30 minutes. Remove loaf pan from water and let cool to room temperature – about an hour. Transfer to refrigerator and chill for 3 or more hours. About an hour before serving, spread whipped cream over top of cheesecake.
When ready to serve, grasp foil and carefully lift the cheesecake from pan. Place on a cutting board and slice into two square pieces. Place each piece on a dish and top with fresh strawberries.
Serves 2 (1 loaf, divided in half)
Some Notes:
I sometimes use ready-made cookie dough rounds. Press 3 rounds into the loaf pan and bake for 15 minutes. Proceed as directed with chocolate mixture.
Related posts: