Fuzz is back in school today and I'm catching up on the usual chores. Instead of cookies, I decided to make something more practical. Muffins seemed like a good idea, and since they can stand in as breakfast or snack, I figured they'd be useful.
Fuzz doesn't like things suspended in muffins, so I made her a batch of these gingerbread muffins sans raisins and crystallized ginger.  They're not too sweet and have a nice light texture.  I think the addition of chocolate chips would be great here, but these aren't my muffins, they're for Fuzz and they're supposed to be simple and wholesome.
Okay, they're not that wholesome, but you could make them a bit healthier by using white whole wheat flour instead of all purpose.  And doesn't molasses have iron it it??????  I need to go check that.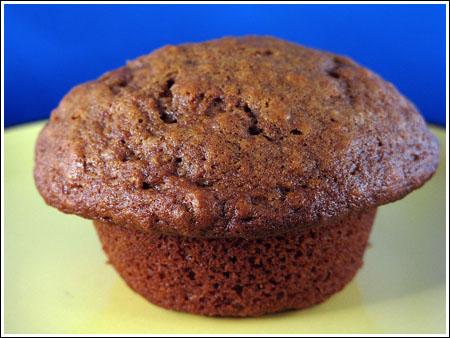 Gingerbread Muffins
3 cups all purpose flour (383 grams) — lightly spooned and swept
1/4 teaspoon salt (1.25 ml)
1 1/2 teaspoons baking soda (7.5 ml)
1 teaspoon ground ginger (5 ml)
1 teaspoon cinnamon (5 ml)
1/2 teaspoon cloves (2.5 ml)
3/4 cup mild molasses (180 ml)
8 tablespoons butter (115 grams)
1/2 cup granulated sugar (99 grams)
1 large egg
1 1/4 cups buttermilk (300 ml)
1/4 cup chopped crystallized ginger (optional)
1/3 cup chopped dates or raisins (optional)
Preheat oven to 375 degrees F (190 C). Spray 12 cup muffin tin with flour-added cooking spray.
In a bowl, thoroughly stir together flour, salt, baking soda, ginger, cinnamon and cloves.
In a microwave-safe bowl, combine molasses and butter. Heat on high for 1 minute or until butter is melted. Stir well. Stir sugar into molasses mixture.
In a second bowl, mix egg and buttermilk. Add buttermilk mixture to molasses and stir until blended. Add flour mixture and stir until blended (batter will still be lumpy). If using, stir in crystallized ginger and dates or raisins.
Divide evenly among muffin tins filling all the way to the top. Bake on center rack for 20 minutes.
Makes 12 muffins
Related posts: