It's as hot as usual, but it's starting to feel like fall because tonight is the first U.T. football game of the season. The neighborhood sounds like lawn mowers and people are running around in team colors buying beer and loading up pick-up trucks. Todd's excited because this year he gets to go to the game too. He does a good job at being a Longhorn fan even though he went to Boston University where he attended almost all the games as a drummer for the BU band. This year, he doesn't have to play any instruments — he just gets to drink and yell "Hook 'em!".
I asked Todd if he needed any cookies for the football game and since he said NO, I went ahead and just baked a batch of my personal favorite, chocolate chip! I've been baking Alton Brown's Chewy Chocolate Chip cookies for years, but this time I decided to try his thin version. Or as Food TV calls it "The Thin".
I didn't make any changes and the cookies turned out great. They're not as airy or light as some, but they are thin and if you cook them for the full amount of time, crisp. I think baking them on a non-insulated cookie sheet really makes a difference here. That is, if you want them crisp. Anyway. These are perfect for sitting around on the couch watching Camp Rock while all your friends are at the football game.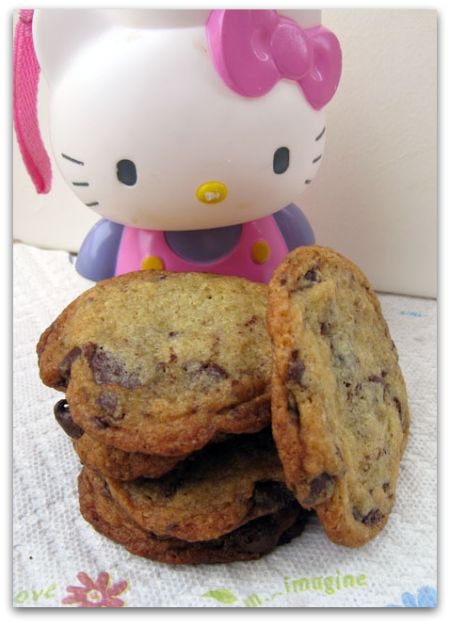 Related posts: