Today's Blueberry Chocolate Chip Cookies were made from things I had lying around. I was out of granulated sugar and used turbinado, and since I was using a less refined sugar, I decided to go with a whole grain flour. And finally, there was that giant bag of dried blueberries from Costco that I just can't get rid of. I still have a bunch left, but I did manage to throw in a half cup.
What I ended up making was the recipe below. I'd heard of blueberry chocolate chip cookies before, but the idea didn't appeal to me and I almost didn't try it. These were surprisingly good.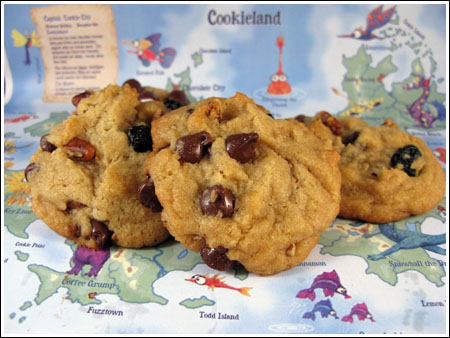 Whole Wheat Blueberry Chocolate Chip Cookies
8 oz unsalted butter (228 grams/2 sticks), room temperature, cut up
1/2 cup (100 grams) firmly packed light brown sugar
1/2 cup (100 grams) Turbinado sugar
1 teaspoon (5 ml) vanilla
1/2 teaspoon (5 ml) baking soda
1 scant teaspoon (4 ml) salt (I used Morton Kosher)
1 large egg
2 cups (260 grams) white whole wheat flour
2 cups (330 grams) semi-sweet chocolate chips
2/3 cup dried blueberries (use more or less to taste)
2/3 cup toasted pecans, chopped
Preheat oven to 375 degrees F. Line 2 baking sheets with parchment paper.
Beat butter with high speed of an electric mixer until creamy. Add sugars and continue to beat until mixture comes together. Beat in the vanilla, baking soda and salt, scraping sides of bowl often. Reduce speed to medium and add egg, beat for 30 seconds or until egg is incorporated. Add the flour and stir by hand until it is partially mixed. Add the chocolate, blueberries and pecans and stir until fully blended.
Using a tablespoon, scoop up rounded spoonfuls of dough and space about 2 1/2 inches apart on cookie sheets. Bake for 10-12 minutes or until edges are light brown and cookies appear done.
Makes about 30
Related posts: