This has been one of those crazy, insane weeks where I barely have time to brush my teeth let alone post a cookie. Given the circumstances, I reached out to my friend Mary at Chew The Fat (creator of awesome breakfast cereal personality tests) and asked if she'd like to share a recipe here on Cookie Madness. She agreed.  So instead of a recipe from me, I'm sharing a recipe from Mary which rest assured, I will try because it sounds so perfect for serving with soup or flavored butter.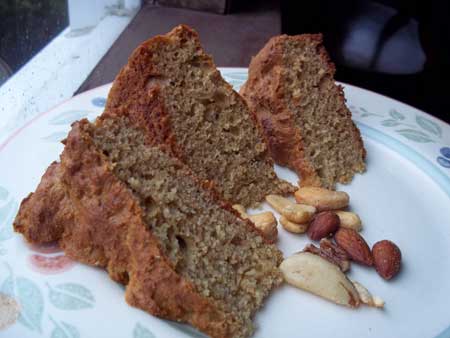 From Mary…
Rye bread, I should have known that you and I would meet again. For years, years, I used the fact that my mother made peanut butter sandwiches on RYE BREAD as an example of how she had 'no clue' about food. But while it is true that my mother made London broil in the microwave and her idea of chicken soup was boiled chicken, a carrot, and a head of celery (no spices) she probably was ahead of her time when it came to her disdain for sugary white bread. The only kind of bread she would allow in the house was rye. Almost as much as the Hostess snack cakes my friends lunched upon, I longed for a peanut butter and jelly sandwich made on soft, gummy Wonder Bread. I wanted to make balls with my sandwiches like the other girls did more than I wanted to eat.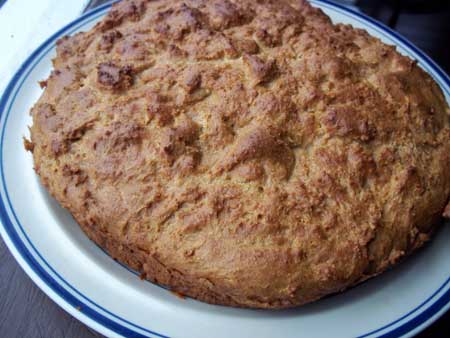 For many years, after I started making my own lunches, I refused to eat rye bread. But I've since discovered that rye is a rather healthy grain. And I've grown to like the taste.
This rye bread recipe is incredibly easy. You remember the commercial "Looks like a pump! Feels like a sneaker!" for Easy Spirit high heels? This bread is kind of: "Looks like a yeast bread! Bakes up like a quick bread!"
Since Super Bowl parties are coming up (a sore spot for many areas of the country, but I live in New Jersey and root for the Giants, so I'm milking this one for all it's worth), this is also a great, easy bread to cut into wedges to place on a serving tray of nuts, cheeses and dips.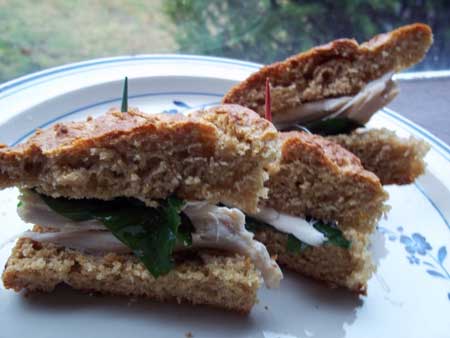 You can also slice it across the middle, like a cake layer and use it to serve sandwiches.
The bread has a slightly sweet, honey-like taste, so it is very kid-friendly. In tribute to my mom, I also had to try it with peanut butter, and I have to say that she was right all along—peanut butter and rye really is quite wonderful.
Quick Rye Bread (Adapted from The Fresh Loaf)
1 cup all-purpose flour
1 cup rye flour
2 teaspoons baking powder
1/2 teaspoon baking soda
1 /2 teaspoon coarse sea salt
1 /4 cup salted, melted butter
2 large, beaten eggs
1 /4 cup honey
3 /4 cup full fat yogurt (I used Fage)
1. Preheat the oven to 350F. Grease a 8 inch cake pan with butter.
2. Sift the flours, baking powder and soda, and salt together.
3. Blend the butter, eggs, honey and yogurt in another bowl. Slowly spoon in the dry mixture. Mix until just incorporated.
4.Press batter into the cake pan. Bake for approximately 37-40 minutes, until a toothpick can be extracted 'clean.'
Thank you so much Anna, for the opportunity to 'guest blog!' Cookie Madness was the first baking blog I ever read and it inspired me to start my own blog! You can check out some of my other recipes including my latest Vegan Peanut Butter Muffins at Chew the Fat.