Looking for Valentine's Day ideas, how about chocolate in the form of a gigantic cookie? Like the other Levain copy cats, these are big, fat, and have fudgy soft centers. The ones I tried in New York were very dark and had peanut butter chips and I've found this recipe to be very similar — especially when made with a dark Dutch processed cocoa powder. The ones in this picture were made with natural style, and while they were still very good, the Dutch processed ones were even better.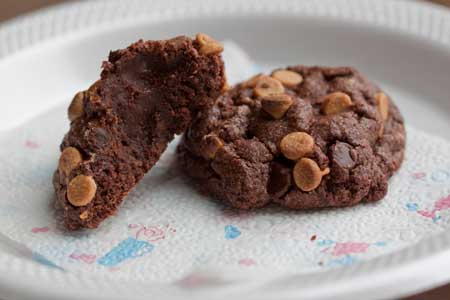 The other nice thing about this recipe is that it's perfect for making ahead. Bake the cookies, wrap tightly and freeze. The texture improves!
Giant Chocolate Peanut Butter Chip Cookies
Giant cookies with peanut butter chips.
Ingredients
8 ounces (2 sticks) cold, European style butter, chopped
1 1/4 cups plus 2 tablespoons (10 ounces) granulated sugar
2 large eggs
1 teaspoon vanilla extract
2 1/4 cups (10.1 ounces) King Arthur Bread Flour
1/4 teaspoon salt
1/4 teaspoon baking powder
2/3 cups (2 ounces) Hershey's Dark Dutch processed cocoa powder
1 cup extra dark chocolate chips
1 cup Reese's peanut butter chips
Instructions
If you're going to bake right away, preheat the oven to 350 F convection or 375F regular.
In the bowl of a stand mixer fitted with a paddle, beat the cold butter until it is creamy. Add the sugar and continue to beat until it is mixed in. Gradually add the eggs and vanilla and continue beating with the paddle on medium until mixed, scraping sides of bowl once or twice. The coolness from the eggs should make the butter seize up again so the creamy mixture will appear lumpy.
Meanwhile, in a separate bowl, mix the flour, salt, and baking powder. Mix in the cocoa. With the mixer on medium-low (or by hand with a heavy duty rubber scraper), gradually add the flour mixture stirring just until mixed. Stir in the chocolate chips peanut butter chips.
Empty the batter onto a large flat surface and make sure all the ingredients are evenly incorporated. Instead of lumping it all together, keep it kind of loose. Divide into 12 raggedy pieces. The dough should be cold before you even put it in the refrigerator, but chilling the dough will help make the cookies taller. I've also had good results freezing the dough and baking it from frozen.
Preheat oven to 375 degrees F. If you are using convection, preheat to 350 F convection.
Arrange cookies (I recommend baking 1 or 2 first to nail down your time) on a chilled, heavy duty cookie sheet. Bake on center rack for 18 minutes at 375 or 15 minutes at 350F convection. Let cool for about 5 minutes on the cookie sheet, then remove and finish cooling on a rack. When cool, you can eat OR you can freeze the cookie and thaw them for a better texture.
Related posts: