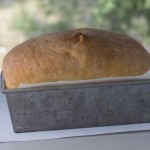 Print Recipe
Basic White Bread Without a Bread Machine
A basic white bread perfect for sandwiches and toast.
3/4

cup

water

1/4

cup

milk

5

teaspoons

of unsalted butter

3 to 3 ½

cups

of

about 13.5 oz plus more if needed bread flour

5

teaspoons

of granulated sugar

1 1/8

teaspoon

salt

Morton Kosher**

1 1/8

teaspoon

of yeast

half a packet active dry yeast
In a microwave-safe liquid measuring cup, combine the water, milk and butter. Microwave for 1 minute, and then stick a thermometer in the mixture. It should be about 125 degrees or hotter. If it's hotter, let it cool down to about 125 degrees.

In the bowl of a stand mixer, combine 1 cup of the flour, sugar, salt and yeast. Gradually add the 125 degree liquid mixture to the flour mixture and stir well. Add remaining flour 1 cup at a time until you have a dough that is not too dry, nor too sticky.

Attach the dough hook to the mixer and knead with the mixer for about 8 minutes or until dough is smooth and elastic.

Rub a second bowl with butter. Put the dough in the greased bowl, cover with plastic wrap and let rise in a warm place for 1 hour. Press it down and pat it into a rectangle. Roll into a cylinder and put the cylinder in a greased and floured 8 ½ by 4 ½ inch loaf pan.

Put the loaf pan in a warm place and let it rise for 1 hour.

Preheat oven to 375 degrees F. Bake for 45 minutes or until loaf is browned and feels hollow when tapped. Let cool completely, then remove from the pan and slice.