This is a basic white bread that rises high and fluffy, yet is not so fluffy that it falls apart under a sandwich. The recipe calls for half a packet of yeast (1 ⅛ teaspoon) and makes standard size loaf.
Here's a photo of the cross-section.  The bread rose a little too high over the edge of the pan because it was baked in an 8 ½ by 4 ½ inch loaf pan.  A 9x5 inch loaf pan should give you a more uniform crumb.
Bring on the peanut butter and jelly!  Or maybe the bacon.  Basic White Bread is the one you want if you just want something tasty that works well with sandwiches.
Flour Amount
I've added some gram measurements.  My usual weight for 1 cup of all-purpose flour is about 4.5 oz/127 grams, but my bread flour is now coming in at 5 oz/140 grams per cup so I used about 420 grams of flour in this last batch. The dough seemed a little dry with 420 and needed a splash of water, so I recommend using 380 grams as the target weight.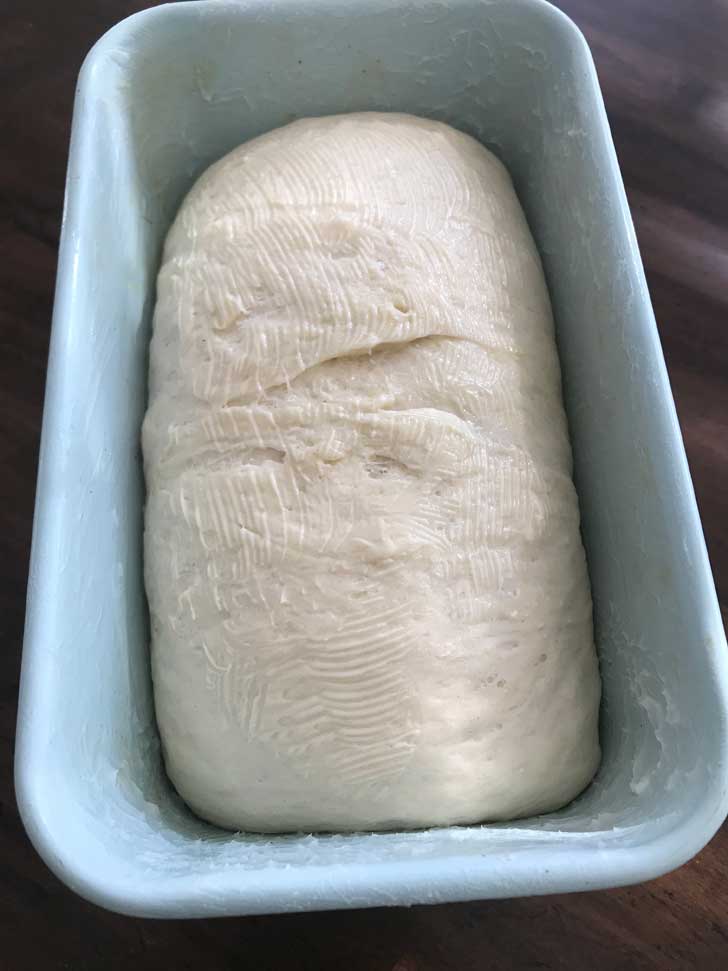 Active Dry Yeast in Flour Mixture
This recipe is a little different in that it has you add active dry yeast directly to the flour mixture rather than proof it in the liquid.  If you have any doubts about the freshness of your yeast, you can proof it in the liquid.  To proof it, let the water/milk mixture cool to 105 degrees instead of 125 and add the yeast directly to it.  Let it stand until foamy (5 to 10 minutes) and then add the mixture to the flour mixture. If you are confident your yeast is fresh, just add it to the flour mixture as per the directions.  
Recipe