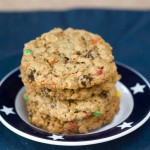 Print Recipe
Monsters
Oatmeal peanut butter cookies with M&Ms or "Monsters"
3

large eggs

1

cup

regular or organic granulated sugar

1

cup

packed light brown sugar

2

teaspoons

baking soda

1

teaspoon

salt

1

teaspoon

corn syrup or maple syrup

1 1/2

teaspoon

vanilla extract

1 1/2

cups

peanut butter

14 ounces

1/2

cup

1 stick unsalted butter, melted and cooled

1/2

cup

2.25 ounces regular or organic all-purpose flour

4 1/2

cups

old-fashioned rolled oats

1/2

cup

dark chocolate chips

1/2

cup

butterscotch chips

1/2

cup

white chips

1/2

cup

mini candy coated chocolates

M&Ms
Preheat the oven to 350 degrees F now, or wait and do it a little later in the process. The dough will need to sit for 30 minutes. Have ready two or three greased or nonstick foil lined baking sheets.

In a large mixing bowl, stir together the eggs, both types of sugar, baking soda, salt, maple syrup and vanilla. Stir in the peanut butter and melted butter. When mixed, add flour and stir until blended. Lastly, stir in the oats, all the different chips and the candies.

Let the dough sit for 30 minutes so that the oats can absorb some moisture. At this point, you might also want to preheat the oven.

Using a quarter cup measure, scoop up dough and arrange mounds about 4 inches apart on the sheets. Press the tops down slightly to flatten somewhat (you want even mounds rather than spheres). Bake at 350 degrees F for 12 to 15 minutes or until cookies appear set and lightly browned around the edges. Let cool on the baking sheet for 5 minutes, then transfer cookies to a wire rack to cool.